Environmental group urges stricter PM10 standard
UNIQUE VARIABLES: Citing the WHO, the Environmental Protection Administration said that standards should be set in accordance with each nation's circumstances
Environmental group Air Clean Taiwan yesterday urged the government to tighten the standards governing air pollution and called on candidates running in Saturday's presidential and legislative elections to prioritize the issue as a matter of national security.
At a news conference in Taipei, the group released figures on the average levels of PM10 — an indicator of airborne particles measuring 10 micrometers or less — in cities nationwide last year.
While PM2.5 — particles measuring up to 2.5 micrometers — can enter the lungs, PM10 is more likely to become stuck in nasal cavities and cause nasopharyngeal cancer, group chairman Yeh Guang-perng (葉光芃) said.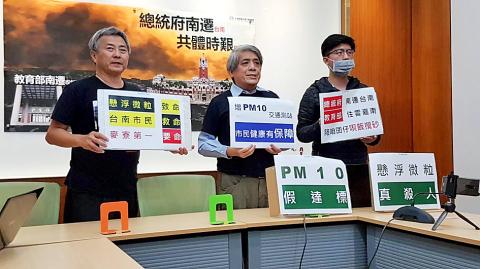 Members of Air Clean Taiwan release the results of an annual air quality report at the Legislative Yuan in Taipei yesterday.
Photo: Lo Chi, Taipei Times
The highest average concentration of PM10 last year was 48.35 micrograms per cubic meter (mcg/m3) in Tainan, followed by 48.27mcg/m3 in Chiayi County, 46.3mcg/m3 in Yunlin County, 45.8mcg/m3 in Kaohsiung and 45.7mcg/m3 in Pingtung County, he said.
The WHO recommends that the annual average PM10 level should not exceed 20mcg/m3, but Taiwan's standard is 65mcg/m3, Yeh said, calling on the Environmental Protection Administration to adopt the WHO standard.
Air quality standards should be determined in accordance with each nation's health risks, pollution situation, pollution control techniques and socioeconomic development level, the agency said in a statement, citing the WHO.
The agency said that it plans to lower the maximum annual average to 50mcg/m3 and the daily limit to 100mcg/m3 to 125mcg/m3, mirroring Japan and South Korea.
Taiwan's average annual level of PM10 has fallen from 51.3mcg/m3 in 2014 to 35.7mcg/m3 last year, it said.
Eliminating air pollution is a continuous process that is not always effective immediately, the agency said, adding that people should discuss scientifically proven methods for controlling pollution instead of causing panic by citing only some conditions.
In related news, National Chung Hsing University environmental engineering professor Tsuang Ben-jei (莊秉潔) on Monday said that replacing old diesel-powered trucks is the key to further improving the air quality in central Taiwan.
The air quality in central Taiwan from Friday to Sunday last week was poor, but only the monitoring station in Yunlin's Douliou City (斗六) issued a "red" warning on Saturday, he said.
The pollution in Douliou could have been worse without a reduction in emissions from the coal-fired Taichung Power Plant, Tsuang said, adding that curbing coal use has helped improve the air quality in the region.
However, most monitoring stations in central Taiwan recorded PM2.5 levels greater than 35mcg/m3 on Sunday and Monday, with even the station in Taichung's Fongyuan District (豐原) that is less affected by the power plant's emissions reaching 50mcg/m3, demonstrating that air pollution from vehicles is the main factor, he said.
Older trucks emit more nitrogen oxides, which form nitrates in PM2.5, he added, calling on the government to replace the nation's nearly 80,000 old trucks with newer, cleaner vehicles to reduce pollution.
Comments will be moderated. Keep comments relevant to the article. Remarks containing abusive and obscene language, personal attacks of any kind or promotion will be removed and the user banned. Final decision will be at the discretion of the Taipei Times.