CAA favors building new Kaohsiung airport terminal
The Civil Aeronautics Administration (CAA) yesterday said it is leaning toward a plan to demolish the two terminals at Kaohsiung International Airport and build a new one that can accommodate both domestic and international passengers.
The domestic and international terminals are currently connected by a 343m-long passageway.
With the number of international flights increasing, the CAA at the end of 2017 began proposing ways to revamp the airport's terminals.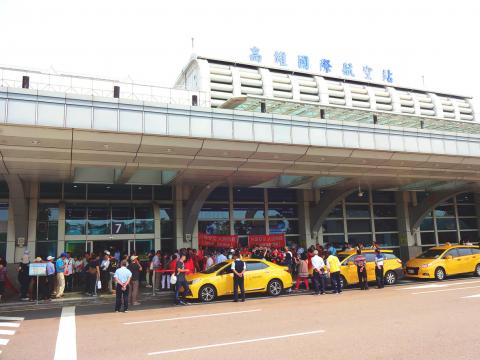 A taxi pickup and drop-off point at Kaohsiung International Airport is pictured on March 28.
Photo: CNA
A proposal to tear down the two terminals and build a new one was considered after reviewing two other options, the CAA said.
The original plan was to demolish the domestic terminal and construct a new one on the site that could be accessed by domestic and international passengers, it said.
However, it dropped the idea because there would still have to be a passageway connecting the two terminals, it said.
It then proposed another plan at the beginning of this year, where a new international terminal would be built between the two existing terminals.
While there would be three terminals, on the outside people would see only one large terminal serving domestic and international passengers, it said.
The CAA abandoned the idea, because of the cost and difficulty of integrating the systems of the new and old terminals.
The original plan would have boosted the airport's passenger capacity from 7 million annually to 10 million by 2035, but the new plan would further expand it to 16.5 million passengers by 2040, it said.
To ensure that construction would not disrupt the airport's operation, the CAA said it would build half of the new terminal first, while operations at the existing facilities continue.
A comprehensive plan to revamp the terminals is to be finalized by the end of this year, it said, adding that it hopes the Environmental Impact Assessment Committee would review the project next year.
Construction of a new terminal, estimated to cost NT$38.4 billion (US$1.26 billion), is expected to commence in 2022 and take eight to 10 years, it said.
CAA statistics showed that passenger traffic hit a record 6.98 million last year, with international passenger numbers growing at an average of 5 percent in the past five years.
The CAA has spent NT$1.08 billion renovating the runways, with the work completed in May.
Comments will be moderated. Keep comments relevant to the article. Remarks containing abusive and obscene language, personal attacks of any kind or promotion will be removed and the user banned. Final decision will be at the discretion of the Taipei Times.