2018 ELECTIONS: All law enforcement mobilized for public safety
All law enforcement agencies have been mobilized to ensure public safety and provide protection for candidates during street canvassing and at major rallies, National Police Agency Director-General Chen Ja-chin (陳家欽) said yesterday as he ordered police to be especially alert against violence that in the past has led to agitation and conflict.
Chen said that over the past few weeks he has convened meetings and visited local precincts to issue orders and implement security measures for the final few days of campaigning and election day.
Police cybersecurity units have been working around the clock to crack down on disinformation and to track down online threats against candidates, he added.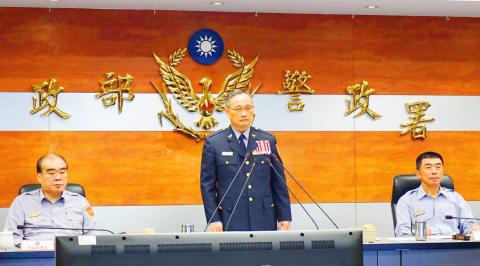 National Police Agency Director-General Chen Ja-chin, center, yesterday stands at a meeting on maintaining election safety in Taipei.
Photo: CNA
Any saboteur or political agitator intending to disrupt the elections would be dealt with severely by the agency and local police, he said at a security task force meeting.
He told all local police chiefs to respond quickly to disruption attempts and to be diligent in ensuring social stability, regardless of the outcome of the elections.
About 68,000 police officers are to be mobilized nationwide today, with several thousand standing by in reserve, to maintain public safety and ensure that voting and ballot counting go smoothly, Public Order Division section head Fan Chih-sheng (范織坤) said.
Security measures for close city and county races, especially Taipei and Kaohsiung, have been upgraded to those used to protect the president and vice president, he said.
Democratic Progressive Party Kaohsiung mayoral candidate Chen Chi-mai (陳其邁) and his Chinese Nationalist Party (KMT) rival, Han Kuo-yu (韓國瑜), have over the past few days at all times had at their sides two personal escorts carrying a bulletproof shield, Fan said.
Chen and Han also have two rings of guards consisting of 10 special forces police officers in the inner group and 10 uniformed police in the outer ring, he said.
The agency has implemented extra measures to protect candidates and other politicians at campaign rallies and post-election gatherings, including a detection dog unit and coordination between police units to keep saboteurs and agitators out of restricted areas, he added.
As of press time last night, three major sweeps had been conducted to prevent disorderly conduct, resulting in the arrest of 1,008 people with links to major crime syndicates and local gangs, including wanted criminals and seven people plotting violence against candidates who prosecutors have been investigating, Chen said.
Comments will be moderated. Keep comments relevant to the article. Remarks containing abusive and obscene language, personal attacks of any kind or promotion will be removed and the user banned. Final decision will be at the discretion of the Taipei Times.