ECCT urges simpler steps, welcomes English push
UP THE VALUE CHAIN: The trade group said it recommended setting up a central translation resource center to ensure consistency in translations across all ministries
The European Chamber of Commerce Taiwan (ECCT) yesterday called on the government to align the nation's regulatory system with international standards and facilitate making English a second official language.
"The government has made progress toward improving Taiwan's regulatory environment, but it is not fully optimized yet to meet the needs of a modern economy," ECCT chairman Hakan Cervell told a media briefing on the release of the chamber's annual position paper.
Some local practices still deviate from international standards and make doing business in Taiwan difficult, Cervell said.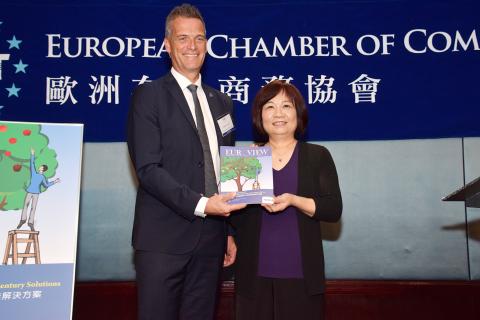 European Chamber of Commerce Taiwan (ECCT) chairman Hakan Cervell, left, in Taipei yesterday presents National Development Council Minister Chen Mei-ling with a copy of the ECCT magazine Euroview containing the chamber's 2019 position papers.
Photo courtesy of the National Development Council
It is unreasonable for local safety regulations to demand duplicate testing and paperwork for complete vehicles and components that have already been certified in Europe, the paper said.
Taiwan should also allow certified electronic signatures, because producing international certificates to present to authorities is time-consuming and costly, it said.
In line with the government's move toward digitization, procedures should be able to be done online, the paper said.
The chamber welcomed the government's efforts to establish English as a second official language by 2030, saying that improving English-language proficiency would help move Taiwan up the value chain.
The Executive Yuan is to draw up an action plan regarding this by the end of the year.
The trade group said it recommended setting up a central translation resource center to ensure consistency in translations across all ministries, adding that a coordinated effort is needed to translate all legislation and make government Web sites bilingual.
The chamber has over the years pushed for street names to be consistently spelled by different governments.
Raising the level of English proficiency would take time, the trade group said.
The Ministry of Education has already made proposals to that end, such as increasing English class hours at elementary, junior and senior-high schools, and establishing bilingual classes.
The measures focus on making the next generation fluent in English, but progress should also be made with ongoing adult education, the chamber said.
"A good place to start is to improve the level of English fluency of government officials at all levels, through training and by offering incentives," it said.
The chamber said it was grateful that the National Development Council and the Ministry of the Interior have decided to change the number formats on Alien Resident Certificates and Alien Permanent Resident Certificates, as the lack of compatibility with Taiwanese citizens' identification numbers has denied foreign residents access to online shopping and other commercial services.
Comments will be moderated. Keep comments relevant to the article. Remarks containing abusive and obscene language, personal attacks of any kind or promotion will be removed and the user banned. Final decision will be at the discretion of the Taipei Times.