May wins support from business for draft Brexit deal
British Prime Minister Theresa May yesterday won support from big business for her draft Brexit deal ahead of "intense negotiations" with Brussels in the coming week.
May told the Confederation of British Industry (CBI), the UK's main business lobby group, that she was "determined to deliver" her Brexit deal as she prepares for Sunday's European Council summit to sign Britain's divorce papers.
"We now have an intense week of negotiations ahead of us," she told about 1,000 business leaders at the CBI annual conference in central London.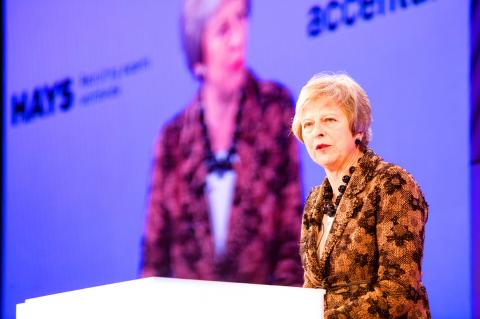 British Prime Minister Theresa May speaks to the Confederation of British Industry's annual conference in London yesterday.
Photo: Bloomberg
"During that time I expect us to hammer out the full and final details of the framework that will underpin our future relationship," she said. "I am confident that we can strike a deal at the council that I can take back to the House of Commons."
However, she said that the final phase "was always going to be the toughest."
The Brussels negotiations will finalize a parallel political declaration setting out a road map for post-Brexit negotiations on future EU-UK ties.
CBI chief Carolyn Fairbairn gave qualified support for May's draft deal, telling the conference that "it is not perfect, it is a compromise, but it is hard-won progress."
"It offers that essential transitional period as a step back from the cliff-edge," she said.
Responding to reports that European Chief Negotiator for the UK Exiting the EU Michel Barnier had raised the prospect of extending the transition deal until the end of 2022, May said it was "important that we are out of the implementation period by the next general election," scheduled for May 2022.
Turning to immigration, May promised to introduce "more streamlined application processes" that will "attract the brightest and the best from around the world."
"But the difference will be this: once we have left the EU, we will be fully in control of who comes here," she said.
"It will no longer be the case that EU nationals, regardless of the skills or experience they have to offer, can jump the queue ahead of engineers from Sydney or software developers from Delhi," May said.
Meanwhile, several Conservative Party rebels yesterday continued their efforts to gather the signatures of 48 lawmakers needed to trigger a no-confidence vote in May.
Lawmaker Simon Clarke urged wavering colleagues to help trigger a leadership challenge.
"It is quite clear to me that the captain is driving the ship at the rocks," Clarke said.
Additional reporting by AP
Comments will be moderated. Keep comments relevant to the article. Remarks containing abusive and obscene language, personal attacks of any kind or promotion will be removed and the user banned. Final decision will be at the discretion of the Taipei Times.