Back peaceful polls, coalition urges candidates
A coalition of 43 groups yesterday voiced concern over what it said was the increasing amount of misinformation being spread ahead of Saturday's polls, and it urged candidates nationwide to promise to ensure a peaceful and rational election day.
Worried about "society's stability and well-being," representatives of the groups said they decided to form an alliance to promote a peaceful election day, adding that they hoped to ensure a smooth election process by urging candidates to support the same goal.
"A profound sense of fear and uncertainty can clearly be observed in society," the coalition said in a statement issued at a news conference in Taipei.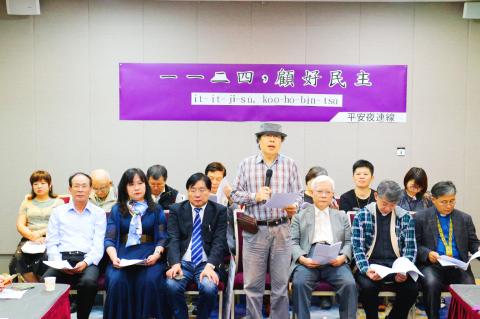 Humanistic Education Foundation president Shih Ying urges voters to stay calm on Saturday at a news conference in Taipei hosted by representatives from an alliance of civic groups.
Photo courtesy of the Humanistic Education Foundation
"Democracy needs to be protected by people who can stay calm," Humanistic Education Foundation president Shih Ying (史英) said.
There are reasons to be worried about the elections, but the coalition does not intend to oppose any candidates, he said.
Shih urged all candidates to sign an agreement the coalition prepared to pledge to promote calmness among their supporters and to refrain from inciting irrational behavior.
Attorney Winifred Tung (童文薰), a human rights advocate, said that there have been increased discussions over whether certain referendums could be rigged, raising concerns that there could be violent reactions to results of the referendums.
"However, we must have faith in democracy. If we are concerned about referendums being rigged, then we should help monitor the process," he said, urging people to show up to watch the ballot counting to protect democracy.
Taiwan Association for China Human Rights chairman Yang Hsien-hung (楊憲宏) said there has been "fake news, misinformation and fake polls, made with the intention of creating chaos."
Those behind such misinformation apparently hope to incite rage if the election results do not reflect the false public opinions they have created, he said.
There have been many signs that China has spread rumors about its weapons in an attempt to influence public opinion since 1949, so Taiwanese must be careful, he said.
Northern Taiwan Society chairman Li Chuan-hsin (李川信) said that fake surveys helped create post-election unrest in 2000 and 2004, and he urged candidates to sign the coalition's pledge to prevent similar situations.
Elections should be about candidates' platforms, Alliance to Promote Hokkien convener Hsu Hui-ying (許慧盈) said, adding that the groups in the coalition are against violence and any uncivilized means used to manipulate and incite irrational behavior.
China has been trying to influence the election by manipulating Taiwanese' dissatisfaction with the government's recent reforms, Taiwan Society chairman Chang Yeh-sen (張葉森) said.
Hopefully, the public would remain cautious and all candidates would be disciplined, he said.
Coalition members plan to visit several cities and counties to promote their pledge, and the names of candidates who refuse to sign it would be made public, the groups said.
Comments will be moderated. Keep comments relevant to the article. Remarks containing abusive and obscene language, personal attacks of any kind or promotion will be removed and the user banned. Final decision will be at the discretion of the Taipei Times.