TRA faces probe of train procurement
DRIVER'S STATEMENT: Yu Chen-chung wrote that he had not recovered from his injuries, but was cooperating with investigators and had described his actions
The Taipei District Prosecutors' Office yesterday said it would investigate the procedures the Taiwan Railways Administration (TRA) used to bid for and assess Puyuma Express trains eight years ago.
Prosecutors do not rule out forgery charges being laid, the office said amid its investigation of the derailment of Puyuma Express Train No. 6432 in Yilan County on Sunday.
The train left the tracks as it was passing Sinma (新馬) Railway Station, killing 18 people and injuring nearly 200.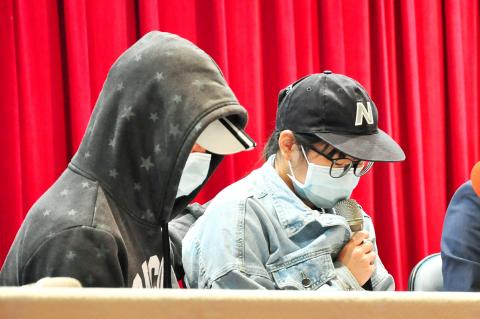 Puyuma Express train driver Yu Chen-chung's daughter, right, and her brother attend a news conference at Saint Mary's Hospital in Luodong Township, Yilan County, yesterday.
Photo: CNA
The TRA has said speed played a role, after the driver switched off the automatic train protection (ATP) controls without informing dispatchers.
Nineteen of the TRA's Puyuma trains are not equipped with distant monitoring systems, so the control center would not know if the ATP controls were turned off, it said.
The monitoring system transmits up to 2,000 "false signals" per day, making assessments of danger difficult, which is why it was not installed on the 19 trains, it said.
However, lawmakers said the TRA's descriptions of the ATP and its monitoring system were inconsistent.
The TRA seems to be telling more lies to cover up previous lies, New Power Party Executive Chairman Huang Kuo-chang (黃國昌) said.
The switch for the ATP controls should have been connected to the control center via a wireless system as stated in the bidding contract, Democratic Progressive Party Legislator Tuan Yi-kang (段宜康) said.
If there was a connection problem, TRA officials should have noted it when they checked the assembly process of the trains in Japan in 2012, Tuan said.
It is curious why the TRA extended the warranty period for the trains, he said.
Separately yesterday, driver Yu Chen-chung (尤振中), who was in charge of the train when it derailed, was to speak at a news conference, but ended up making a statement through his son and daughter with a lawyer accompanying them.
Yu's daughter had planned to read his statement, but was overcome with emotion and unable to speak.
In the statement, which was read by the lawyer, Yu apologized to the families of those killed and other passengers.
He could not say anything about the incident previously, as he had been questioned by authorities for 20 consecutive hours and had not recovered from his own injuries, the statement said.
During questioning by prosecutors, Yu described everything leading up to the derailment and how he solved problems to minimize injuries, the statement said, adding that he would continue cooperating with investigators and shoulder any blame.
It expressed gratitude to those who sent him messages and asked that people would allow him and his family some space.
Regarding a deferred prosecution in February for charges over the use of amphetamines, the statement said that Yu received monthly checks according to prosecutors' instructions and he had not used the drug since.
Yu has been despondent and quiet since he was released on bail by the Yilan District Prosecutors' Office on Tuesday, said staff at Saint Mary's Hospital in Yilan County's Luodong Township (羅東) who treated the train driver.
He ate little and rejected meetings except with family members, doctors and his lawyer, they said.
Comments will be moderated. Keep comments relevant to the article. Remarks containing abusive and obscene language, personal attacks of any kind or promotion will be removed and the user banned. Final decision will be at the discretion of the Taipei Times.