EPA deputy quits, cites Lai pressure
ENVIRONMENTAL CLASH: Chan Shun-kuei tried to resign last year because he disliked William Lai's actions as Tainan mayor, but this time it was due to the lack of policy talks
Environmental Protection Administration (EPA) Deputy Minister Chan Shun-kuei (詹順貴) resigned yesterday, saying he refused to cave in to pressure from Premier William Lai (賴清德) to sway the agency's environmental impact assessment (EIA) system.
Chan was a noted environmental attorney prior to being asked to join the Cabinet by then-premier Lin Chuan (林全) after President Tsai Ing-wen's (蔡英文) Democratic Progressive Party (DPP) administration took office in May 2016 .
Chan first tendered his resignation after Lin stepped down and was replaced by Lai in September last year, citing what he said was Lai's frequent defiance of democratic principles during his time as Tainan mayor, but was persuaded by Tsai to stay.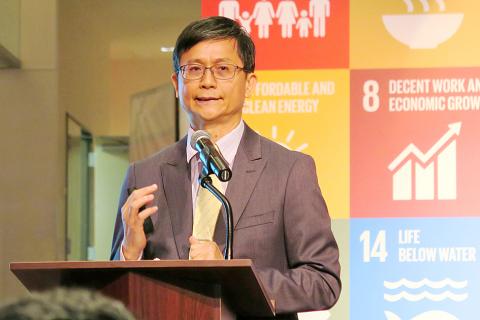 Environmental Protection Administration Deputy Minister Chan Shun-kuei speaks at a seminar in New York City on Sept. 19.
Photo: CNA
Amending the Air Pollution Control Act (空氣污染防制法) and the Environmental Impact Assessment Act (環境影響評估法) were the primary reasons he agreed to join the Cabinet, Chan wrote on Facebook yesterday morning.
However, over the past year, officials have not been allowed to thoroughly discuss policies at Executive Yuan meetings, he wrote.
While his goals have not been fully realized, the credibility of the EIA system is being undermined by pressure from Lai, which made him feel ashamed for not being able to accomplish his duties and led to his decision to leave, he wrote.
His announcement came four hours before the EPA's EIA grand assembly was to open to review CPC Corp, Taiwan's (台灣中油) plan to construct a third liquefied natural gas (LNG) terminal in Taoyuan.
Chan said he was not trying to influence the assembly with his resignation.
He thanked Tsai, Lin and EPA Minister Lee Ying-yuan (李應元) for supporting his decision, while apologizing for any inconvenience his resignation might cause.
At a news conference about the terminal project yesterday afternoon, Lee praised Chan's contributions over the past two years and said that he was reluctant to let Chan go.
Later in the day, Executive Yuan spokeswoman Kolas Yotaka confirmed that Chan's resignation had been approved.
The Executive Yuan understood the stress he was under from environmental groups' criticism of his role in the EIA approval for the proposed Shenao thermal power plant in New Taipei City, she said in a statement.
Although the CPC's LNG terminal project is crucial for the government to achieve its "nuclear-free homeland by 2025" policy, the Executive Yuan did not disregard environmental protection principles in its promotion of the project, she added.
The Air Pollution Control Act was amended and promulgated in August. The draft amendments to the EIA act were published by the EPA in September last year, but were not listed as a priority bill in the legislative session that began on Sept. 21.
Comments will be moderated. Keep comments relevant to the article. Remarks containing abusive and obscene language, personal attacks of any kind or promotion will be removed and the user banned. Final decision will be at the discretion of the Taipei Times.