Su has one-on-one meet with US House speaker
Legislative Speaker Su Jia-chyuan (蘇嘉全) on Friday had a one-on-one meeting with US House of Representatives Speaker Paul Ryan in Washington, marking the first such meeting since the US severed diplomatic ties with Taiwan in 1979.
Although the US' Taiwan Relations Act does not forbid the speakers from having public meetings, the US was concerned that doing so would cause political speculation.
However, since the US Congress passed the Taiwan Travel Act earlier this year, interactions between senior-level government officials from the two sides have become more frequent and public.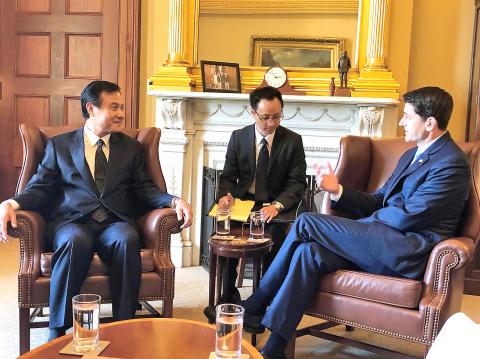 Legislative Speaker Su Jia-chyuan, left, speaks to US House of Representatives Speaker Paul Ryan, right, in Washington on Friday.
Photo courtesy of the Taipei Economic and Cultural Representative Office in the US
In 2008, then-legislative speaker Wang Jin-pyng (王金平) met with then-US House speaker Nancy Pelosi and other US representatives at the US Capitol, local media reported.
During the meeting, Wang invited Pelosi to visit Taiwan.
Su met with Ryan on the sidelines of two memorial services for US senator John McCain on Friday and Saturday. Su represented Taipei at the ceremonies.
Su in a Facebook post on Saturday said he had met with Ryan, as well as US Senator Cory Gardner and several US representatives.
Su said that in addition to paying his respects to McCain, he also expressed gratitude to the US Congress for its staunch support for improving relations between Taiwan and the US, as well as for peace and stability across the Taiwan Strait.
Su arrvied in Washington on Thursday, leading a delegation to McCain's lying-in-state ceremony at the US Capitol on Friday, and a national memorial service that took place at Washington National Cathedral the following day.
At Saturday's ceremony, Su met with US politicians and foreign dignitaries as they recalled McCain's life of service, the Taipei Economic and Cultural Representative Office in the US said in a statement.
McCain passed away from brain cancer on Saturday last week at the age of 81.
Su's delegation is scheduled to return to Taipei today.
Additional reporting by Lu Yi-hsuan
Comments will be moderated. Keep comments relevant to the article. Remarks containing abusive and obscene language, personal attacks of any kind or promotion will be removed and the user banned. Final decision will be at the discretion of the Taipei Times.