No exception for Taiwan's steelmakers
DIVERSIFICATION: Steel and aluminum manufacturers have heeded the government's call to seek other markets by expanding shipments to Europe and Southeast Asia
Taiwan has failed to obtain an exclusion from a list of nations whose exports of steel and aluminum to the US are to be targeted by tariffs.
US President Donald Trump has signed proclamations allowing relief from quotas on steel from South Korea, Brazil and Argentina, as well as on aluminum from Argentina, the US Department of Commerce said in a statement on Wednesday.
"Companies can apply for product exclusions based on insufficient quantity or quality available from US steel or aluminum producers," the statement said. "In such cases, an exclusion from the quota may be granted and no tariff will be owed."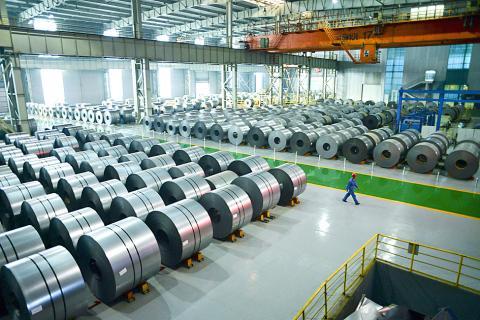 A worker walks past rolled steel coils at a warehouse in Handan in China's Hebei Province on April 21, 2017.
Photo: AFP
Citing national security concerns, Trump in March signed an order under Section 232 of the US' Trade Expansion Act of 1962 to impose a 25 percent tariff on imported steel and a 10 percent tariff on aluminum.
US Secretary of Commerce Wilbur Ross at the time said the move was meant to deliver on Trump's promises to US workers and enterprises.
Taiwan was the ninth-largest source of steel imports to the US last year, while Brazil, South Korea and Argentina were the second, third and sixth-largest respectively, department statistics showed.
Ross on May 31 said arrangements had been made with some countries to have non-tariff limits on their exports of the two metals to the US.
For instance, the arrangement with South Korea was for a quota of 70 percent of average steel exports to the US from 2015 to last year, he said.
Tariffs on steel and aluminum imports from the EU, Canada and Mexico took effect on June 1.
In response to the tariffs, the government has encouraged local manufacturers to diversify their export markets beyond the US.
The effort has borne fruit, with overall exports of the affected steel and aluminum products from April to last month increasing 14.5 percent and 21.7 percent annually respectively, the Ministry of Finance said on its Web site on Wednesday.
An increase in steel shipments to several European and Southeast Asian countries in the three months helped offset declining sales of affected steel products to the US, boosting total exports to US$3.92 billion over the period, the ministry said.
The US is normally Taiwan's largest export destination for the affected steel products, but the latest ministry statistics showed that in the first seven months of this year, the US became the second-largest market for those goods after China.
Due to diverted orders from China, shipments of Taiwanese aluminum products to the US subject to higher tariffs did not decline from April to last month, but instead surged 3.8 times to US$70 million, lifting overall exports of such goods to US$290 million in the period, the ministry said.
The Ministry of Economic Affairs yesterday said the government would continue talks with the US on an exemption for Taiwanese steel and aluminum exports from higher tariffs, but added that local manufacturers need to pay close attention to import restrictions on such products imposed by the EU and Canada.
Additional reporting by Chen Cheng-hui
Comments will be moderated. Keep comments relevant to the article. Remarks containing abusive and obscene language, personal attacks of any kind or promotion will be removed and the user banned. Final decision will be at the discretion of the Taipei Times.