Kaohsiung and Pingtung still hit by rain, flooding
Torrential rain brought by a southeast airstream yesterday led to severe flooding in Pingtung County and Kaohsiung, as the two regions were still reeling from devastation caused by a tropical depression system hovering over the nation last week.
Despite the heavy rain that began on Monday night, the Kaohsiung City Government did not make an announcement to cancel school and work until 6:12am.
Many commuters complained that they were not aware of the announcement until after leaving for work.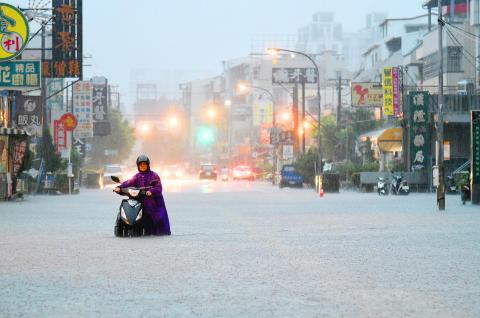 A resident pushes a scooter along a flooded street in downtown Kaohsiung yesterday.
Photo: Chang Chung-i, Taipei Times
Although the city has spent about NT$30.3 billion (US$986.2 million) over the past 12 years to build 13 flood detention ponds and on other hydroengineering projects, flooding was still reported in Gushan (鼓山), Yancheng (鹽埕), Sanmin (三民) and Fongshan (鳳山) districts.
Pingtung did not cancel school and work, although flooding was reported in Pingtung City and several townships.
A resident in the county's Yanpu Township (鹽埔) surnamed Lu (盧) told reporters yesterday morning that he was used to flooding in his neighborhood, because it happened every time there was heavy rain.
Cars stand partly submerged by floodwater on Chengcing Road in downtown Kaohsiung yesterday.
Photo: Chang Chung-i, Taipei Times
Another resident, surnamed Sheng (盛), said his home was inundated by midnight, adding that it has been flooded three times this month.
"It is a long-standing problem. One wonders what the government has been doing all these years," Sheng said.
Accumulated rainfall in Pingtung's Sinyuan Township (新園) surpassed 380mm by 7:50pm, followed Pingtung County's Wandan Township (萬丹) with 361mm, Central Weather Bureau data showed.
The southwest airstream would continue to affect central and southern Taiwan, as well as the southeast region, the bureau said, adding that these regions could experience hours of rainfall.
Rainfall in the nation today would progressively decrease compared with Monday and yesterday, but chances of heavy to extremely heavy rainfall remain high nationwide, it added.
The bureau forecast that the monsoon trough would gradually move away from Taiwan and the southwest airstream would weaken tomorrow and Friday, although chances of showers would remain high in central and southern Taiwan, as well as the southeast region.
From Saturday to Monday next week, the humidity would decrease further as the Pacific high pressure tends to move west, the bureau said, adding that cloudy to sunny skies with afternoon thundershowers are forecast for most of the nation during this period.
Comments will be moderated. Keep comments relevant to the article. Remarks containing abusive and obscene language, personal attacks of any kind or promotion will be removed and the user banned. Final decision will be at the discretion of the Taipei Times.