US lawmakers amend bill to limit El Salvador funds
'GRAVE MISTAKE': Gardner said abandoning Taiwan would 'negatively influence' ties with the US, while Rubio said the decision would prove 'costly and short-sighted'
A number of US lawmakers on Tuesday expressed their support for Taiwan following the termination of diplomatic ties with El Salvador, which decided to switch recognition to China, allegedly for financial aid.
The Central American country switched its recognition from Taiwan to China after Taipei refused to invest an "astronomical sum" of money in its Port of La Union development project, the Ministry of Foreign Affairs said.
To voice the US' support for Taiwan and condemn El Salvador for abandoning its democratic ally of 85 years in favor of a communist regime, US senators Cory Gardner and Marco Rubio introduced an amendment to a "minibus" appropriations bill on restricting US funding to the Central American nation, a statement on Gardner's official Web site said.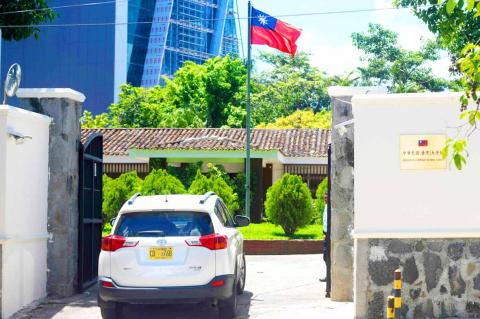 A diplomatic vehicle enters the Taiwanese embassy in San Salvador on Tuesday.
Photo: AFP
"I urge for it [the amendment] to be included in the final bill. This amendment will send a direct message to Taiwan's allies that the US will use every tool to support Taiwan's standing on the international stage and will stand up to China's bullying tactics across the world," said Gardner, who is chairman of the US Senate Foreign Relations Subcommittee on East Asia, the Pacific and International Cybersecurity Policy.
Gardner also warned El Salvador that the wrong decision "will negatively influence United States relations with El Salvador."
In a similar vein, Rubio described El Salvador's decision as "a grave mistake that harms relations with the US and will likely prove to be costly and short-sighted, given what we know about China's 'debt traps' and economic exploitation globally."
US Senator Tom Cotton on his Web site urged China to refrain from interfering in Taiwan's diplomatic relations with other countries.
"Proud, confident nations that aspire to great power status don't obsess about the diplomatic relations of their small neighbors," Cotton said.
US representatives Ileana Ros-Lehtinen and Mario Diaz-Balart used Twitter to express disapproval of China's attempt to isolate Taiwan diplomatically.
US Representative Albio Sires voiced concern on his Web site over the "growing Chinese influence in the region that has caused multiple countries to break with Taiwan in favor of Chinese investment."
Chinese promises of investment "are little more than empty promises that do not create real jobs, only benefit Beijing in the long run and do not provide any real assistance to the hardworking people they claim to benefit," Sires said.
Comments will be moderated. Keep comments relevant to the article. Remarks containing abusive and obscene language, personal attacks of any kind or promotion will be removed and the user banned. Final decision will be at the discretion of the Taipei Times.