Cars plunge as bridge collapses in Italy; 22 dead
A bridge on a main highway linking Italy with France collapsed yesterday in the Italian port city of Genoa during a sudden, violent storm, sending vehicles plunging 45m into a heap of rubble below.
A transport official said at least 22 people were killed and eight injured.
A huge section of the Morandi Bridge collapsed over an industrial zone, sending tonnes of twisted steel and concrete debris onto warehouses below. Photographs published by the Italian news agency ANSA showed a massive, empty gulf between two sections of the bridge.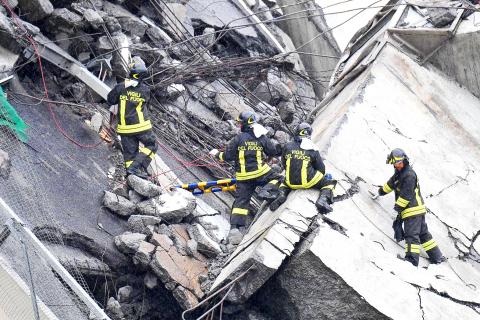 Rescuers yesterday search through the rubble after a highway bridge collapsed in Genoa, Italy.
Photo: EPA-EFE
Amalia Tedeschi, a firefighter, told RAI state TV that about 20 vehicles, including cars and trucks, were caught up as an 80m stretch of the bridge collapsed.
Transport official Edoardo Rixi told Sky TV that 22 people were dead and eight injured in the collapse.
Video captured the sound of a man screaming: "Oh God! Oh, God!"
Other images showed a green truck that had stopped just short of the gaping hole in the bridge.
Firefighters said they were worried about gas lines exploding in the area from the collapse.
ANSA said authorities suspected that a structural weakness had caused the collapse, but there was no immediate explanation for what had happened.
Italian Minister of Infrastructures and Transport Danilo Toninelli called the collapse "an enormous tragedy."
ANSA said Italian Prime Minister Giuseppe Conte was to travel to Genoa later yesterday.
Italian Minister of the Interior Matteo Salvini said about 200 firefighters were responding to the accident.
The disaster came on the eve of a major Italian summer holiday today called Ferragosto, which marks the religious feast of the Assumption of Mary. The day marks the high point of the Italian summer holiday season when most cities and business are closed.
The Morandi Bridge is a main thoroughfare connecting the A10 highway that goes toward France and the A7 highway that continues north toward Milan. Inaugurated in 1967, it is 45m high and just over a kilometer long.
Comments will be moderated. Keep comments relevant to the article. Remarks containing abusive and obscene language, personal attacks of any kind or promotion will be removed and the user banned. Final decision will be at the discretion of the Taipei Times.