China's actions may rebound: premier
'FACE REALITY': The cross-strait situation could benefit both sides if Beijing heeds international ideals, but if it does not, China would face the consequences, Lai said
China's suppression of Taiwan would have the opposite effect and China would suffer the consequences of its actions, Premier William Lai (賴清德) said in an interview with the Liberty Times (sister newspaper of the Taipei Times) published yesterday.
China has poached diplomatic allies, stopped the nation from participating in the World Health Assembly, pressured international airlines into changing how they refer to Taiwan and prevented Taichung from hosting the East Asian Youth Games, Lai said.
China has an excuse every time, but its real purpose is to suppress the government's authority, attack morale and force Taiwan to accept its "one China" principle, he said.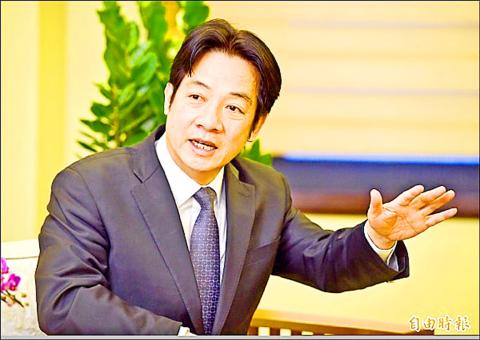 Premier William Lai speaks during an interview with the Chinese-language Liberty Times (the Taipei Times' sister newspaper) on Thursday in Taipei.
Photo: Peter Lo, Taipei Times
No matter what considerations China has taken into account, these moves would have the opposite effect, he said.
Apart from drawing a backlash from Taiwanese, its actions would increase caution among the international community, he said.
China's actions underestimate the determination of Taiwanese to defend the nation's sovereignty and to maintain a lifestyle with freedom, democracy and human rights, he added.
China is to face even more problems in the future, as temporarily getting your way does not mean victory in the long term, he said.
China should adjust its policies toward Taiwan, Lai said.
The international community is also urging Taiwan and China to promote exchanges, he added.
If Beijing adopts dialogue in place of opposition and exchanges in place of containment, the two sides could create a win-win situation, he said, adding that if it does not, China would face the consequences of its actions.
Taiwan is independent and sovereign, and this indisputable fact will not change because of China's peremptory measures, he said.
Preventing Taichung from hosting the Games would not be the last of China's actions, Lai said, adding that its attempt to annex Taiwan is an open conspiracy.
Each incident affects Taiwan's interests, and only by facing these things together can the nation put an end to the coercion, he said.
This is not a question of who governs Taiwan, but rather a reality that Taiwanese want to continue living free and democratic lives, he said.
Asked whether China's announcement at the end of February of 31 measures for Taiwanese would have any effect, Lai said that China is absorbing Taiwanese talent, capital and technology according to a plan.
Taiwan must take this problem seriously, but more importantly, it needs to develop its economy so that no matter how China tries to absorb its talent, the nation would be unaffected, he said.
Conditions here are better than in China, Lai said, adding that generally speaking, Taiwan is more competitive.
Taiwan is a democratic, free, safe and convenient nation that values human rights, he said.
Add to that the government's efforts and cooperation from the private sector, and the nation should be able to keep its future generations, he said.
The Executive Yuan on March 16 announced 39 strategies to counter Beijing's measures.
Twenty-five of the strategies have been implemented, while 14 are still in progress.
In terms of retaining high-tech talent, government agencies have raised half of the funds needed to conduct research, loosened employment restrictions to allow professors at public universities to also hold positions at start-ups and trained 357 people with doctorates to work in key industries, Lai said.
To help businesses retain employees, the government has amended the Statute for Industrial Innovation (產業創新條例), expanded the number of employees who are eligible for rewards and offered more flexible tax options, he said.
Additional reporting by Huang Wei-chu
Comments will be moderated. Keep comments relevant to the article. Remarks containing abusive and obscene language, personal attacks of any kind or promotion will be removed and the user banned. Final decision will be at the discretion of the Taipei Times.