New budget to increase defense by 2.17%: sources
FISCAL 2019: Social welfare is to be the top expenditure, while defense spending is to increase, but not the 3% of GDP promised by President Tsai Ing-wen, sources said
The Executive Yuan's annual expenditure for fiscal 2019 is expected to total NT$2 trillion (US$65.11 billion), with national defense spending increasing by 2.17 percent, or NT$7.1 billion, compared with fiscal 2018, sources said.
However, despite the increase, total defense spending will not reach President Tsai Ing-wen's (蔡英文) promised 3 percent of national GDP, they said.
Current defense spending is less than 2 percent of GDP, although funding for plans to build domestic missile attack boats and purchase M1A2 Abrams main battle tanks could be included, Directorate-General of Budget, Accounting and Statistics Minister Chu Tzer-ming (朱澤民) said.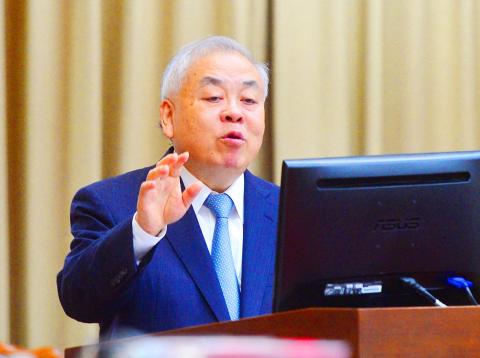 Directorate-General of Budget, Accounting and Statistics Minister Chu Tzer-ming speaks at a meeting of the legislature's Finance Committee in Taipei on March 29.
Photo: Wang Yi-sung, Taipei Times
Tsai expects a gradual increase in national defense spending that is not lower than an average of the past three years' total defense spending, Chu said.
Premier William Lai (賴清德) is expected to preside over cross-agency budget meetings tomorrow to finalize budget ceilings for all governmental agencies, Chu said, but added that defense spending would be separated out so that the president could render a final decision.
Social welfare is to be the greatest expenditure for fiscal 2019, and is not expected to fall below the legally defined minimum of NT$490.6 billion, the sources said.
Public construction spending has reached an all-time high over the past eight years at NT$235.8 billion, including NT$140.8 billion for central government affairs, NT$86.2 billion for the Forward-looking Infrastructure Development Program and NT$8.8 billion for hydraulic engineering efforts, they said.
The Ministry of Transportation and Communications has earmarked NT$3 billion to NT$6 billion in public construction funding for the maintenance of provincial highways, as well as for highway improvement projects.
The Executive Yuan expects to pass the budget for fiscal 2019 before the middle of next month, before the Legislative Yuan's September session begins.
The Ministry of Finance is to issue a report on the annual income expected for fiscal 2019, as new taxes are to go into effect, the sources said.
Comments will be moderated. Keep comments relevant to the article. Remarks containing abusive and obscene language, personal attacks of any kind or promotion will be removed and the user banned. Final decision will be at the discretion of the Taipei Times.