MOFA reiterates support for freedom of navigation
PUSHBACK: A US assistant secretary of defense urged Beijing to renounce the use of force and underlined the US' commitment to supplying Taiwan's security needs
The Ministry of Foreign Affairs (MOFA) yesterday reiterated its support for freedom of navigation in open seas, after US Assistant Secretary of Defense for Asian and Pacific Security Affairs Randall Schriver told a Washington forum that the Taiwan Strait is international waters and the US has the "right" to transit through and engage in activities there.
Schriver made the remarks on Wednesday during a question-and-answer session following his keynote address at an event titled "The Opportunities and Challenges of Cross-Strait Relations" organized by the Taiwan Foundation for Democracy and the Heritage Foundation.
He was asked by reporters whether the US would continue to send aircraft carriers through the Taiwan Strait as Beijing increases its military activity in the region.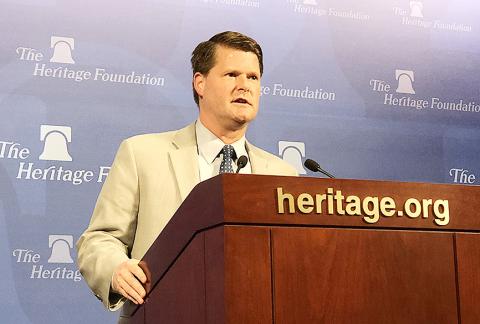 US Assistant Secretary of Defense for Asian and Pacific Security Affairs Randall Schriver speaks at the a forum in Washington on Wednesday.
Photo: CNA
However, Schriver said he would not discuss the US' plans in the Taiwan Strait.
"It's not our intent in any way to add to tensions or undertake activities that could raise the risk of accident or conflict, but I would suggest the party that's been the most aggressive here is the China side and what would be most helpful is if China renounced the use of force and began to pull back the military means they're using to intimidate and coerce the people of Taiwan," Schriver said.
"It's our intent to have a normal, routine, FMS [foreign military sales] relationship with Taiwan that is very much based on the threat we see from China and Taiwan's security needs," he said, referring to a US Department of Defense program.
"Our law gives us the flexibility to respond in an appropriate way" to the increasing Chinese military pressure on Taiwan, Schriver added.
All vessels are free to transit through international waters, Ministry of Foreign Affairs spokesman Andrew Lee (李憲章) said at a regular news conference in Taipei.
It has always been Taiwan's policy to maintain smooth transit through international waters, and the freedom of navigation and overflight, Lee added.
Recent Chinese military activity has already heightened tensions in the region and raised concerns among other countries, he said.
The ministry will continue to closely monitor the situation in cooperation with national security agencies, he said.
In the face of a constantly growing military threat, the government is to speed up its investment in national defense and strengthen its self-defense capabilities, he added.
The government is also to fulfill its responsibility as a member of the region and uphold regional peace and stability, Lee said.
The ministry said it welcomed remarks by Schriver that "Taiwan is a partner in promoting a free and open Indo-Pacific and can make valuable contributions," and his reiteration of support for military sales to Taiwan.
Comments will be moderated. Keep comments relevant to the article. Remarks containing abusive and obscene language, personal attacks of any kind or promotion will be removed and the user banned. Final decision will be at the discretion of the Taipei Times.