Sales of ivory to be banned from 2020
ARTS AND CRAFTS: About 100 ivory products, mostly seals and small sculptures, have been sold annually in Taiwan over the past few years, mostly by art dealers in Taipei
The sale of ivory products is to be banned in Taiwan from the beginning of 2020 in a bid to protect African elephants, whose number continues to decline due to illegal hunting for elephant tusks, the Council of Agriculture's Forestry Bureau announced yesterday.
The number of African elephants has fallen from about 508,000 in 2006 to 415,000 in 2015, and their existence is primarily threatened by poaching, the bureau said, citing the African Elephant Status Report 2016 published by the International Union for Conservation of Nature.
According to the report, African elephants might become extinct in 20 years if their number continues to decline at that rate, the bureau said.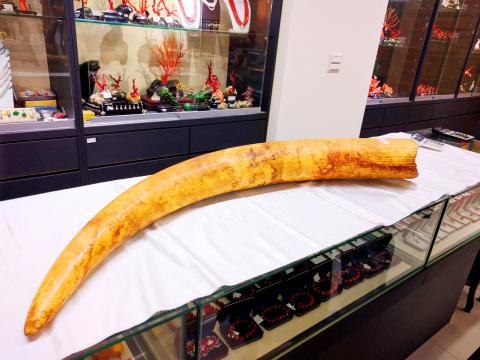 An elephant tusk is on display in an undated photograph.
Photo provided by the Council of Agriculture's Forestry Bureau
Many nations in 2016 called for the closure of ivory markets to protect African elephants at the Conference of the Parties to the Convention on International Trade in Endangered Species of Wild Fauna and Flora, it said.
After amendments to the Wildlife Conservation Act (野生動物保育法) in 1994, Article 16 banned "in principle" the trade and exhibition of products made from protected wildlife, it added.
However, after taking into consideration that there was likely a large accumulated stock of ivory products, the government in 1995 introduced a buffer measure mandating an inventory of such products and requiring vendors to file reports with local governments, bureau Conservation Division Director Hsia Jung-sheng (夏榮生) said, adding that there were about 220,000 ivory products in stock at the time.
About 100 ivory products, mostly seals and small sculptures, have been sold annually over the past few years, up to 70 percent of which were sold by art dealers in Taipei, she said.
After meeting with domestic seal, jewelry and artwork suppliers, the bureau said that it decided to officially impose a ban on the ivory trade by amending Articles 33 and 33-3 of the Enforcement Rules of the Wildlife Conservation Act (野生動物保育法施行細則).
Before the ban takes effect on Jan. 1, 2020, people selling or exhibiting ivory products in public spaces would still be required to obtain the approval of local governments, or face a prison term of up to five years and six months or a fine of between NT$300,000 and NT$1.5 million (US$9,818 and US$49,090), the bureau added.
Comments will be moderated. Keep comments relevant to the article. Remarks containing abusive and obscene language, personal attacks of any kind or promotion will be removed and the user banned. Final decision will be at the discretion of the Taipei Times.