Supreme Court upholds recall violence ruling
The Supreme Court yesterday found a Taichung borough warden guilty of using violence to prevent people from conducting a recall campaign, the first ruling of its kind by the court.
Baoshan Borough (寶山) Warden Liao Cheng-yuan (廖振源), 66, was found guilty of assaulting an Appendectomy Project volunteer, who was campaigning to recall then-legislator Tsai Chin-lung (蔡錦隆) of the Chinese Nationalist Party (KMT) in 2014.
The court ruled that Liao had breached Article 98 of the Civil Servants Election and Recall Act (公職人選舉罷免法) — the first time the Supreme Court found someone guilty of using violence to impede a recall campaign — and upheld his four-month jail sentence, which can be commuted to a NT$120,000 fine.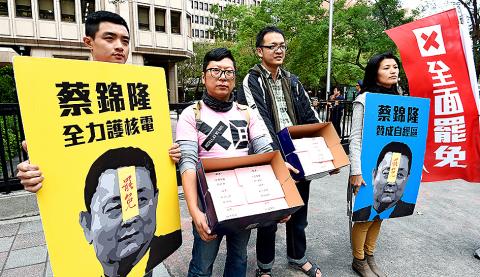 People campaigning for the recall of then-Chinese Nationalist Party (KMT) legislator Tsai Chin-lung petition signatures for the first phase of the recall process in Taipei on Dec. 18, 2014.
Photo: Liu Hsin-de, Taipei Times
The court stripped Liao of his position and barred him from holding office for a year, making him ineligible to run in this year's election.
Liao had appealed the guilty verdicts from the Taichung District Court and the Taiwan High Court. The latest ruling is final and cannot be appealed.
Prosecutors presented video evidence showing that on Nov. 29, 2014, the day of the nine-in-one elections, volunteers for the project gathered in front of a Taichung elementary school, the area's voting station, holding posters asking people to sign a petition to recall Tsai.
Liao told them to leave the area, yelling: "Hey, young people, pack up your things and go away or I will get angry," a video recorded by a volunteer surnamed Ko (柯) on his cellphone shows.
He then called on nearby police officers to help him as Ko and his colleagues told Liao that they were doing nothing illegal.
Liao pushed the phone aside, then threw punches and grabbed at Ko, bruising his face and neck, the video shows.
Ko filed a legal complaint against Liao and went to a hospital to obtain a medical report on his injuries.
The Supreme Court ruled that due to Liao's use of violence and intimidation, the campaign event was terminated, thereby contravening the act.
"Liao won the borough warden position five times. As such, he would know that holding elections and recall campaigns are basic human rights as guaranteed in the Constitution," the ruling said. "However, he chose to assault the recall campaign volunteer. His action harmed the normal functioning of the right to recall."
Comments will be moderated. Keep comments relevant to the article. Remarks containing abusive and obscene language, personal attacks of any kind or promotion will be removed and the user banned. Final decision will be at the discretion of the Taipei Times.