PRC bullying now 'hysterical': ministry
'CENSORSHIP': Beijing rejected a US Department of State request for consultations on its demand that foreign companies begin referring to Taiwan as a Chinese territory
The Ministry of Foreign Affairs yesterday expressed the government's gratitude for efforts being made by like-minded nations to counter China's bullying of private-sector corporations after Reuters quoted sources, including a US official, that said China had rejected US requests for talks over how US airlines and their Web sites refer to Taiwan.
"Over the past few months, Beijing has been pressuring foreign airlines to list Taiwan as Taiwan, China. This practice has reached an hysterical level," ministry spokesman Andrew Lee (李憲章) said, adding that China's repeated threats of "corporate censorship" has severely undermined affected parties' freedom of speech and corporate freedom.
China has demanded that foreign firms, and airlines in particular, begin referring to Taiwan as a Chinese territory on their Web sites along with Hong Kong and Macau, a move described by the White House last month as "Orwellian nonsense."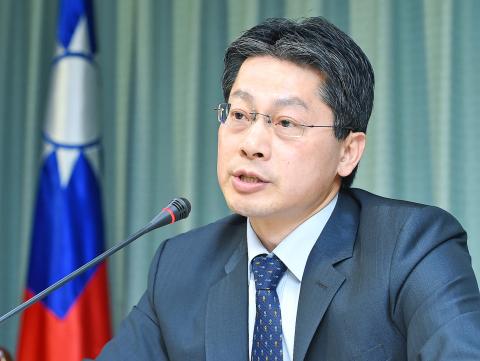 Ministry of Foreign Affairs spokesman Andrew Lee speaks at a news conference in Taipei on Jan. 24.
Photo: Liao Chen-huei, Taipei Times
Numerous non-US carriers, such as Air Canada, Lufthansa and British Airways, have already made changes to their Web sites, but several US companies, including Delta Air Lines and United Airlines, were among carriers that sought extensions to a May 25 deadline to make the changes.
The final deadline is July 25.
Late last month, the US Department of State presented the Chinese Ministry of Foreign Affairs with a diplomatic note requesting consultations on the matter, but the ministry has since refused it, two sources briefed on the situation told Reuters.
"This has definitely become a foreign policy issue," one of the sources said on condition of anonymity, noting that the US government did not view it as a technical matter for bilateral aviation cooperation.
The spat has become "another grain of sand in the wound" amid escalating trade tensions, a second source said, referring to US President Donald Trump's threat to impose tariffs on billions of US dollars of Chinese imports to punish Beijing for intellectual property abuses.
A US Department of State official confirmed to Reuters that China had rejected its request for talks on Monday, adding that it was "disappointed" and had maintained close communication with the airlines, but had not told them how to respond to Beijing's demands.
"US airlines should not be forced to comply with this order," the official said. "We have called on China to stop threatening and coercing American companies and citizens."
Chinese companies are free to operate their Web sites without political interference in the US, the official added.
China's rebuff has left the US government weighing its next move.
The White House convened a staff-level meeting on the issue on Wednesday, but it is not clear what it plans to do.
The Chinese Ministry of Foreign Affairs did not respond to a faxed request for comment, but last month it said: "No matter what the United States says, it cannot change the objective fact that there is only one China in the world, and that Hong Kong, Macau and Taiwan are indivisible parts of Chinese territory."
Delta chief executive officer Ed Bastian on Wednesday said at a forum in Washington that the airline was working with the US government on the issue, but would not say whether it would comply.
"We're working with the US authorities on the topic and we'll stay close to our US government," Bastian said, calling it a "good plan of action."
United Airlines chief executive officer Oscar Munoz on June 7 told Reuters in Washington that the Web site issue was a "government-to-government diplomatic issue, and again we'll see what comes out of that and we'll react accordingly."
Asked if he would defer to the White House, Munoz said: "I fly to both places and I am deferential to our customers, and again this is not something I am going to solve."
American Airlines earlier this month said that it had not made changes to its Web site and that it was following the direction of the US government.
Comments will be moderated. Keep comments relevant to the article. Remarks containing abusive and obscene language, personal attacks of any kind or promotion will be removed and the user banned. Final decision will be at the discretion of the Taipei Times.