China hosts Russia, Iran for summit as US tensions rise
Chinese President Xi Jinping (習近平) late yesterday opened a two-day regional security summit attended by Russia, Iran and other allies confronting rising tensions with the US over trade and Washington's withdrawal from the Iranian nuclear deal.
Armored vans lined the streets of the coastal city of Qingdao as world leaders arrived on Friday for the 18th annual summit of the Shanghai Cooperation Organization, a regional security bloc led by China and Russia.
Its member states also include four former Soviet Central Asian republics, Pakistan and India. Iran is an observer.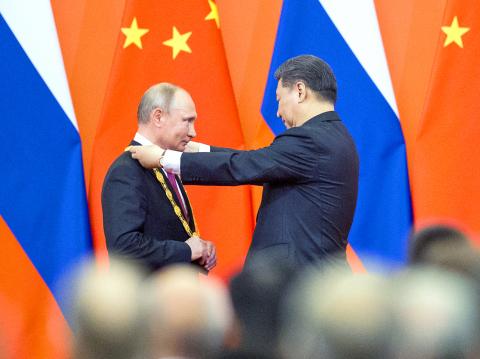 Chinese President Xi Jinping, right, awards Russian President Vladimir Putin with the friendship medal during a ceremony at the Great Hall of the People in Beijing on Friday.
Photo: AP
Authorities emptied an entire oceanside swathe of the city — clearing out shopkeepers, residents and day-trippers to make way for Xi, Russian President Vladimir Putin and Iranian President Hassan Rouhani.
Pakistani President Mamnoon Hussain and Indian Prime Minister Narendra Modi are also attending the meeting.
The meeting comes after US President Donald Trump controversially pulled Washington out of the 2015 international pact with Iran that placed limits on its nuclear program in return for easing economic sanctions.
Speaking at the start of his meeting with Putin on the sidelines of the summit, Rouhani hailed close Iran-Russia ties.
He said that the US exit from the nuclear deal warrants an "important and serious discussion between our two countries."
Rouhani also hailed Russia-Iran cooperation in Syria, saying that "our role in the region is quite significant."
Russia and Iran have staunchly backed Syrian President Bashar al-Assad, helping turn the tide of war in his favor.
Putin said that Moscow would support full-fledged Iranian membership in the group.
In a symbol of close China-Russia ties, Xi on Friday gave China's first friendship medal to Putin.
Xi placed the large golden medal around Putin's neck at the grandiose Great Hall of the People in Beijing in front of dignitaries from both countries.
China's "highest honor" is bestowed on foreigners who have made" outstanding contributions" to the country's modernization drive and helped maintain world peace, Xi said.
"This medal of friendship represents the Chinese people's lofty respect for President Putin, and symbolizes the profound friendship between China and Russia," he said.
The most powerful Russian and Chinese leaders in decades, Putin and Xi have forged closer ties as Trump has labeled both countries economic rivals that challenge US interests and values.
Before the medal ceremony, Putin said the two heads of state had enjoyed "fruitful" talks.
"The relationship between Russia and China is a friendly, neighborly one, developing ... in the spirit of overarching strategic partnership," he said.
Meanwhile, Putin and Trump have mentioned Vienna as a possible venue for their summit, but no decision has been made, Putin's spokesman Dmitry Peskov told reporters in Qingdao yesterday.
The two leaders discussed the prospects for their meeting in a March telephone call and talked about locations, he said.
"There have been no concrete agreements or understandings, and no specific discussions are being conducted now," Peskov said.
Comments will be moderated. Keep comments relevant to the article. Remarks containing abusive and obscene language, personal attacks of any kind or promotion will be removed and the user banned. Final decision will be at the discretion of the Taipei Times.