AmCham calls for plan on electricity, work hours
The American Chamber of Commerce in Taipei (AmCham) yesterday urged the government to provide a detailed plan to ensure a stable supply of electricity and allow more flexible working hours for professionals to keep Taiwan competitive.
At a news conference to unveil the organization's Taiwan White Paper for this year, AmCham chairman Albert Chang (章錦華) praised the government for its efficiency over the past 12 months in resolving 11 of 83 issues raised in last year's report — the most since the group started tracking the results in 2004.
That was a significant improvement, considering that none of the 80 issues raised in the 2016 report were considered solved by the time last year's was released, he said.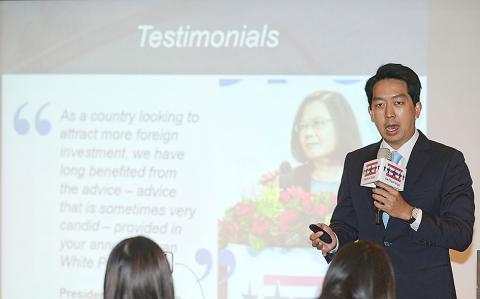 American Chamber of Commerce in Taipei chairman Albert Chang speaks at a news conference in Taipei yesterday.
Photo: Chang Chia-ming, Taipei Times
"The major turnaround in 2017 was largely due to unprecedented cooperation with the government," Chang said, praising the efforts of National Development Council Minister Chen Mei-ling (陳美伶), who presided over meetings that delved into each of the 83 issues.
The most significant resolved issue was the pharmaceutical committee's call for passage of legislation to create a patent linkage system to bolster intellectual property rights protection by helping ensure that patent-infringing drugs are kept off the market, he said.
However, challenges remain, the group said.
One is that the government needs to provide absolute assurances that Taiwan would continue to have a sufficient, stable and cost-competitive power supply given its plan to abolish nuclear power and dramatically reduce carbon emissions by 2025, it said.
"The government needs to provide detailed plans for energy development," Chang said, adding that without such plans, US companies could choose other nations in which to invest.
He praised the government's revisions to the Labor Standards Act (勞動基準法) in January that overturned earlier revisions passed by the same government in late 2016.
Chang called for another amendment to meet the needs of both employees and employers in a knowledge-based economy, as professional and managerial personnel should have greater flexibility in terms of working hours than blue-collar workers.
In its "Message to Washington" section of the white paper, AmCham urged the US government to adhere to a regular, annual schedule of bilateral Trade and Investment Framework Agreement talks.
The suggestion came after last year's scheduled talks were suspended, because Washington had yet to fill the vacant deputy US trade representative posts.
AmCham also called on the US government to utilize the Taiwan Travel Act passed earlier this year to send more high-level officials to Taiwan, Chang said.
Alex Wong (黃之瀚), a deputy assistant secretary in the US Department of State's Bureau of East Asian and Pacific Affairs, attended AmCham's annual spring banquet in March.
He was the first US official to visit Taiwan after US President Donald Trump signed the Taiwan Travel Act, which promotes meetings and visits between high-ranking US and Taiwanese officials.
Comments will be moderated. Keep comments relevant to the article. Remarks containing abusive and obscene language, personal attacks of any kind or promotion will be removed and the user banned. Final decision will be at the discretion of the Taipei Times.