Weightlifter Hsu Shu-ching retiring from competition
OLYMPIC GOLD DOUBLE: Old and new injuries were behind her decision, but Hsu said she would focus on becoming a coach at the National Sports Training Center
Olympic double gold medalist Hsu Shu-ching (許淑淨) yesterday announced she is retiring from weightlifting and would not compete in the Asian Games in August.
In a Facebook post, the 27-year-old cited long-standing knee problems and injuries sustained during last year's World Weightlifting Championships as the reasons for her decision, which also meant she was reluctantly giving up her dreams of competing in the 2020 Tokyo Olympics, but would turn her attention to coaching a new generation of athletes.
"I am still recovering from serious injuries sustained last year and cannot undergo training in full. After discussing the matter with my coach, my doctor, the Chinese Taipei Weightlifting Association and leaders in various organizations, I have decided to withdraw from training for the Asian Games in Jakarta and end my career as an athlete," she said.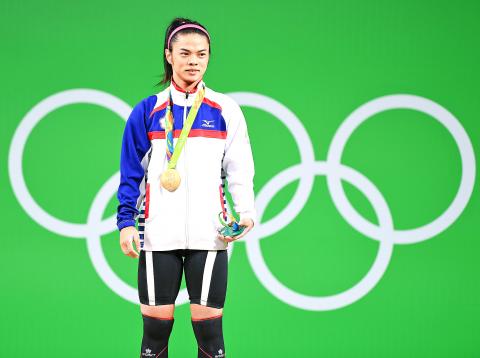 Weightlifter Hsu Shu-ching stands on the podium after winning the gold medal in the 53kg category at the Olympics Games in Rio de Janeiro, Brazil, on Aug. 7, 2016.
Photo: CNA
"Because of the government's financial support, I will stay in the National Sports Training Center and assist Coach Tsai Wen-yee (蔡溫義) and other coaches in training young weightlifters. I will learn to be a good coach to help train more top athletes for the nation," she said.
Hsu thanked her coach, the association, her sponsors and other parties for supporting her training so that she could do so well not only in the Olympics, but the 2014 Asian Games in Incheon, South Korea.
Government policy and support from others for weightlifting are crucial for athletes like her, Hsu said.
Hsu won a gold in the 53kg category at the 2012 London Games and the 2016 Rio De Janeiro Games, the first Taiwanese athlete to win two Olympic golds. She was scheduled to compete in the same category in Jakarta.
She said she hoped the public would continue to support her and cheer for the nation's weightlifters in Jakarta.
Tsai, who won a bronze in the 60kg class in weightlifting at the 1984 Los Angeles Olympics, told the Central News Agency that Hsu's retirement comes two years earlier than they had planned.
He and Hsu had originally planned that she would compete in the Tokyo Games, but he would respect her decision even though it was against his wishes, Tsai said.
Hsu tore two ligaments in her right arm during the world championships and underwent surgery after she returned to Taiwan.
Told rehabilitation would take a year, her recovery has not gone as she had expected, Hsu has said previously.
Comments will be moderated. Keep comments relevant to the article. Remarks containing abusive and obscene language, personal attacks of any kind or promotion will be removed and the user banned. Final decision will be at the discretion of the Taipei Times.