HK groups reject PLA drill pressure
Hong Kong's military-style youth groups rejected Chinese foot drills at an annual flag-raising ceremony yesterday, despite pressure to change their marching traditions inherited from the British colonial era.
The groups had received requests from China's liaison office in Hong Kong to change their foot drills to follow those used by the People's Liberation Army (PLA), which has a garrison in the semi-autonomous territory.
It came as Hong Kong's freedoms are under increasing pressure from an assertive Beijing, with authorities accused of trying to rewrite history.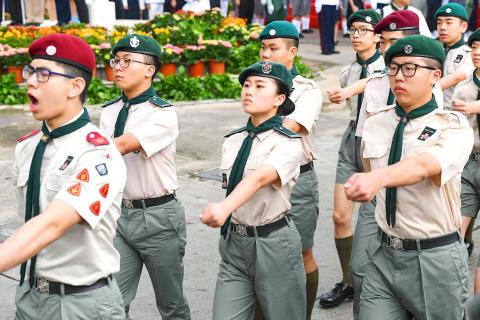 Members of a military-style youth group use the British style quick march as they take part in an annual flag-raising ceremony in Hong Kong yesterday.
Photo: AFP
As 14 groups dressed in their different uniforms gathered yesterday morning on the harbor front in Hong Kong, only one used the PLA style.
"We've been using British foot drills all this time. We don't have any plan to change them for the time being," said Colonel Matthew Wong (黃?民) of the Hong Kong Adventure Corps (HKAC), adding that they reflect the group's traditions and cultural background.
The HKAC was set up by former staff of the Royal Hong Kong Regiment who had remained after Britain handed the territory back to China in 1997.
Senior Boys' Brigade drill instructor Alex Fong (方煒鍵) said members had "shown their concerns" over the requests.
Its foot drills originated in Scotland and have been used for almost six decades.
The flag-raising event marks student-led anti-imperialist protests in China in 1919 that reflected a surge in Chinese nationalism.
Youth groups said they had been invited to the liaison office and to a meeting at a restaurant with the event organizer to discuss changing their drill style for the ceremony.
They were offered help with retraining.
Last month, several youth groups were also invited to a four-day PLA foot drill training session at one of its barracks.
Although the HKAC keeps an open mind on learning new skills, Wong said the response had not been "enthusiastic," with only 14 of 5,000 members taking up the offer.
Youth members who attended the ceremony said it was not up to them to decide whether or not to change the foot drills.
The one group that did use the PLA foot drill was the Hong Kong Army Cadets Association, set up in 2015, a year after massive student-led pro-democracy rallies in Hong Kong and seen by some observers as a tool to get Beijing's message across to young people.
Instead of using the PLA's ceremonial "goose-step" marching, in which the legs are lifted to knee-height off the ground with the knees bent, they used the PLA quick march, which looks more "natural" and "relaxed."
The Hong Kong government earlier this week was reported to have erased all mention of a "handover of sovereignty" — a reference to the end of British rule in 1997 — from the Web site of its protocol division, the South China Morning Post reported.
One Beijing official also publicly called for the territory to change its colonial-era street names.
Comments will be moderated. Keep comments relevant to the article. Remarks containing abusive and obscene language, personal attacks of any kind or promotion will be removed and the user banned. Final decision will be at the discretion of the Taipei Times.