China lures Dominican Republic
DOLLAR DIPLOMACY: Joseph Wu urged other nations to pay attention to Beijing's poor record of following through with its financial pledges to Taiwan's former allies
The Ministry of Foreign Affairs yesterday strongly condemned China's poaching of yet another of Taiwan's diplomatic allies, the Dominican Republic, which established diplomatic ties with Beijing on Monday.
Speaking at an impromptu news conference in Taipei, Minister of Foreign Affairs Joseph Wu (吳釗燮) said the ministry was notified of the Dominican Republic's decision at 7am, while the National Security Council had late on Monday already received intelligence regarding the matter.
President Tsai Ing-wen (蔡英文) was informed of the severance of ties yesterday morning, Wu added.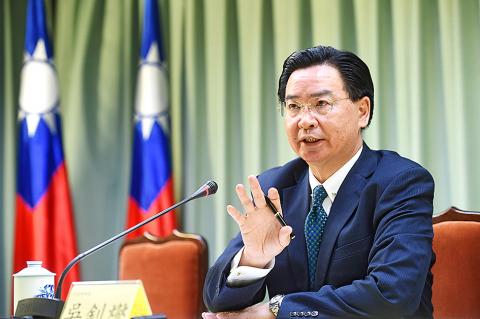 Minister of Foreign Affairs Joseph Wu holds a news conference in Taipei yesterday.
Photo: Fang Pin-chao, Taipei Times
Wu expressed regret over the Dominican Republic's decision to "accept false promises of investment and aid by China" and to end its 77-year-long friendship with Taiwan.
He declined to reveal the amount of money Beijing pledged to the Latin American nation, saying only it is "an astronomical figure that Taiwan cannot promise."
"The ministry strongly condemns China's objectionable decision to use dollar diplomacy to convert Taiwan's diplomatic allies," Wu said, adding that Beijing's foreign policy has eroded mutual trust, driven a wedge between people on both sides of the Taiwan Strait and harmed the feelings of Taiwanese.
The international community should be mindful of China's poor record of following through on its pledges to Taiwan's former diplomatic allies, Wu said, citing Beijing's failure to deliver on US$1.4 billion of aid promised to Costa Rica to build a refinery and highways in 2007, as well as US$140 million of aid pledged to Sao Tome and Principe in 2016.
The Dominican Republic is the third diplomatic ally to switch recognition to Beijing since the Democratic Progressive Party (DPP) administration took office in May 2016, after Sao Tome and Principe in December 2016 and Panama in June last year.
Taiwan now has 19 diplomatic allies left.
The government had concerns about the stability of its relationship with the Dominican Republic, after intelligence indicated that it had since 2016 talked twice with Beijing about the establishment of diplomatic ties, Wu said.
In an attempt to boost ties, then-minister of foreign affairs David Lee (李大維) visited the Dominican Republic in July last year, followed by two visits in August and October by Deputy Minister of Foreign Affairs Jose Maria Liu (劉德立).
The nation in October last year sent the Dominican Republic 50 Humvees and a number of military helicopters.
Asked whether the government would adjust its foreign policy in the wake of the latest setback, Wu said the ministry would not adopt a dollar diplomacy strategy like Beijing and would continue to reinforce ties with its allies on a personal and government level.
Separately yesterday, Tsai said the government would not make compromises, or sacrifice the nation's sovereignty or its people's dignity.
"Whether it is sending aircraft and ships to encircle Taiwan or suppressing the nation in the diplomatic arena, they are all unfriendly and destructive behaviors in terms of cross-strait ties," Tsai said, adding that such behavior has substantially damaged and unilaterally changed the "status quo" of cross-strait relations.
The Mainland Affairs Council yesterday also blasted China in a news release for using its economic clout to force the Dominican Republic to break ties with Taiwan.
"This kind of zero-sum mindset and irrational bullying have severely impaired the 'status quo' and the foundation of peace and stability across the Taiwan Strait... Beijing would have to take the largest share of responsibility for any possible consequences," it said.
American Institute in Taiwan spokeswoman Sonia Urbom criticized Beijing's actions, saying that the efforts to alter the cross-strait "status quo" were unhelpful and did not contribute to regional stability.
"The US has a deep and abiding interest in cross-strait stability and believes the dialogue between the two sides has enabled peace, stability and development in recent years," Urbom said, urging all parties to engage in productive dialogue and avoid escalatory or destabilizing moves.
US Representative Ruben Gallego, who is visiting Taipei, said he was disappointed by the Dominican Republic's decision to break off relations with Taiwan, but added that it would not change Washington's relationship with Taipei.
Comments will be moderated. Keep comments relevant to the article. Remarks containing abusive and obscene language, personal attacks of any kind or promotion will be removed and the user banned. Final decision will be at the discretion of the Taipei Times.