Beijing welcomes idea of Mnuchin visit for trade talks
Beijing yesterday said it would welcome a visit from US Secretary of the Treasury Steven Mnuchin, who said he was considering a trip to the Chinese capital to hold talks on the trade dispute seen as a threat to the global economy.
Tensions between the world's two largest economies cast a shadow over the annual spring gathering of finance ministers in Washington, with concerns a trade war could undercut the global recovery.
Mnuchin on Saturday said during the meetings of the IMF and World Bank that "a trip is under consideration."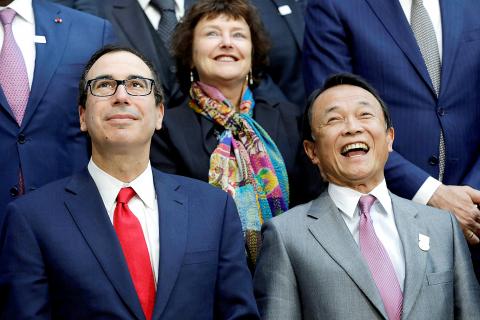 US Secretary of the Treasury Steve Mnuchin, left, and Japanese Minister of Finance Taro Aso, right, on Saturday smile as they pose for the IMF Board of Governors photograph in Washington.
Photo: Reuters
The Chinese Ministry of Commerce yesterday welcomed the move.
"China has received the information that the US side wish to come in Beijing in order to conduct economic and trade consultations. China welcomes this," a short statement on the ministry's Web site said.
US President Donald Trump last month approved steep tariffs on tens of billions of dollars of Chinese imports, while Beijing has slapped duties on key US agricultural exports and has threatened to do likewise for the sensitive US soybean industry.
Among 18 bilateral meetings with his counterparts last week, Mnuchin said he had met with new People's Bank of China (PBOC) Governor Yi Gang (易綱).
While the meeting with Yi did not focus on trade with China, Mnuchin said he remained "cautiously optimistic" about the issue.
"The discussions were really around the governor's actions at the PBOC and certain actions they've announced in terms of opening their markets which we very much encourage and appreciate," Mnuchin said.
In his statement to the IMF meeting, Yi said that "an escalation of trade frictions caused by unilateral actions" posed a risk to the global economic outlook and called on countries to use "rules-based" multilateral organizations to resolve differences.
However, he said China was committed to a series of reforms similar to those called for by the US, including lower tariffs and protections for US technology.
The IMF Board of Governors in a statement at the conclusion of the ministerial meeting highlighted the risks presented by "increasing trade and geopolitical tensions."
Mnuchin also confirmed that the US now supports a US$13 billion capital increase for the World Bank in tandem with a set of reforms, including reducing lending to wealthier countries — a move widely seen as targeting China.
"I look at this as a package transaction ... we support a capital increase on the World Bank along with the associated reforms that they're talking about making," Mnuchin said.
Additional reporting by Reuters
Comments will be moderated. Keep comments relevant to the article. Remarks containing abusive and obscene language, personal attacks of any kind or promotion will be removed and the user banned. Final decision will be at the discretion of the Taipei Times.