US details concerns about Taiwan migrant workers
Human rights reports issued by the US Department of State on Friday raised concerns about the working conditions of migrant workers in Taiwan, saying that they have been vulnerable to exploitation or abuse.
In its human rights reports, the department said Taiwan has about 600,000 migrant workers who largely come from Indonesia, Vietnam, the Philippines and Thailand.
The reports said the exploitation of migrant workers has persisted, even though some regulations to protect them have been put in place, referring to laws such as those that require inspection and oversight of foreign labor brokerage companies and rules that permit foreign workers' transfer to new employers in cases of exploitation or abuse.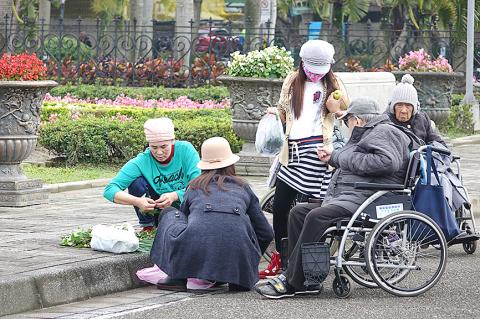 Two elderly people in wheelchairs interact with their caretakers in Taipei on Jan. 20.
Photo: George Tsorng, Taipei Times
However, non-governmental organizations have asserted that "foreign workers often were unwilling to report employer abuses for fear the employer would terminate the contract and deport them, leaving them unable to reimburse debt accrued during the recruitment process," the reports said.
Religious leaders have continuously raised concerns that existing regulations have failed to guarantee a day off for domestic workers and caregivers, a practice that has undermined their rights to attend religious services, they added.
"This problem was particularly salient among [Taiwan's] 231,000 foreign caregivers and household workers, predominantly from Indonesia and the Philippines, who include a number of Muslims and Catholics who want to or believe they must attend religious services on a certain day of the week," the reports said.
In addition to the concerns about migrant workers' interests, the reports said that while the law in Taiwan has prohibited discrimination against workers as a whole, human rights activists have said many employees who feared retaliation from their employers tended not to report their mistreatment to authorities.
In particular, "persons with disabilities and HIV-positive persons sometimes remained vulnerable to discrimination in employment and occupation," the reports said.
Meanwhile, they praised Taiwan as a democracy governed by an elected president and legislature, saying that President Tsai Ing-wen (蔡英文) was elected as the nation's first female president in 2016 and that the current Legislative Yuan has a record 38 percent of female lawmakers, an improvement in female representation in local politics.
However, female workers' mobility and compensation in the job market was still lower than that of men, the reports said.
"Women were promoted less frequently, occupied fewer management positions and worked for lower pay than men, earning on average 83 percent of their male counterparts' income in 2015, although the law prohibits differential treatment of employees based on sex and mandates equal pay for equal work of equal efficiency," the reports added.
Taiwan respects freedom of speech and, as a result, the nation has a vibrant media industry with a wide range of opinions, the reports said.
However, Taiwan's media has remained haunted by the concentration of ownership, in particular among companies with investment from China, they said.
Under such circumstances, local academics and media advocates have criticized some media for practicing self-censorship in favor of China due to political considerations, as well as the influence of local businesses with close ties to Beijing, they added.
Comments will be moderated. Keep comments relevant to the article. Remarks containing abusive and obscene language, personal attacks of any kind or promotion will be removed and the user banned. Final decision will be at the discretion of the Taipei Times.