Thousands clean up for Earth Day
PLASTIC PLAGUE: Tonnes of waste were removed from beaches, harbors and tourist attractions for the event, whose theme this year is 'End plastic pollution'
To mark Earth Day today, thousands of people nationwide yesterday joined cleanup efforts to promote the idea of reducing plastic use.
Established in 1970 by US environmentalists, Earth Day has become a global event celebrated annually on April 22, and this year's theme is "End plastic pollution," the US-based Earth Day Network said on its Web site.
Taoyuan Mayor Cheng Wen-tsan (鄭文燦) led about 1,000 people, including Environmental Protection Administration Minister Lee Ying-yuan (李應元), to clean the city's Syucuo Harbor (許厝港) and Jhuwei Fishing Harbor (竹圍漁港).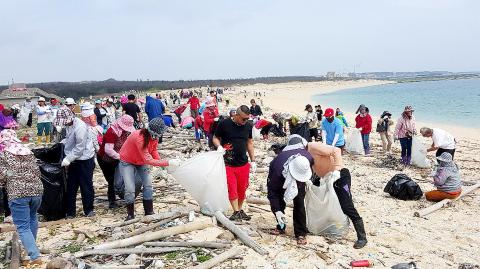 People yesterday clean up a beach in Penghu County during an event organized by the Penghu Environmental Protection Bureau.
Photo: CNA
A total of 3.4 tonnes of garbage and 600kg of recyclable waste was gathered from the beaches, while 630.7kg of trash was collected in the harbors' waters, with plastics constituting the majority of the garbage, the Taoyuan Department of Environmental Protection said.
Members of Kainan University, Taiwan Semiconductor Manufacturing Co (台積電), Ever Rich DFS Corp (昇恆昌), the ASE Cultural & Educational Foundation and other organizations contributed in the cleanups, the department said.
In Tainan, about 2,000 people collected 3.4 tonnes of garbage, including 2.8 tonnes of bamboo frames, and 600kg of recyclable waste, including 220kg of beverage cups and 180kg of plastic, at two of the city's tourist attractions, the Tainan Environmental Protection Bureau said.
The Nantou Forest District Office mobilized more than 150 people to clean up Hehuanshan (合歡山), one of the nation's highest mountains, with 700kg of trash collected and removed within three hours.
Hehuanshan is a popular scenic spot, but the garbage that visitors leave behind, such as snack packaging, plastic bags and polyethylene terephthalate bottles, have hurt the environment, office Deputy Director Chang Hsien-jen (張獻仁) said, urging visitors to take their garbage home to help protect forests.
The Taipei City Government held a fair at 44 South Village (四四南村), where vendors sold reusable products that can replace plastic ones.
The city government plans to hold a series of forums at five universities on reducing the use of plastic, with Plastics Industry Development Center manager Hsu Hsiang-jui (許祥瑞) to launch the events at the University of Taipei on May 7.
The Taichung and Kaohsiung city governments are to mark Earth Day with activities today at Taichung Metropolitan Park and a wetland park in Dashu District (大樹) respectively.
Additional reporting by CNA
Comments will be moderated. Keep comments relevant to the article. Remarks containing abusive and obscene language, personal attacks of any kind or promotion will be removed and the user banned. Final decision will be at the discretion of the Taipei Times.