Minister quits over NTU controversy
'POLITICALLY MOTIVATED': The minister of education said he hopes the schemes surrounding Kuan Chung-ming's election would come to an end with his resignation
Minister of Education Pan Wen-chung (潘文忠) yesterday resigned over what he said were political manipulations and slander directed at the ministry amid a months-long controversy surrounding the legality of National Taiwan University (NTU) president-elect Kuan Chung-ming (管中閔) heading the nation's leading university.
Pan yesterday told the media that he had tendered his resignation to Premier William Lai (賴清德).
Although he is not one to fear challenges at work, he decided to resign after much thought, to curb "politically motivated attacks and slander" leveled at the ministry over the case, Pan said.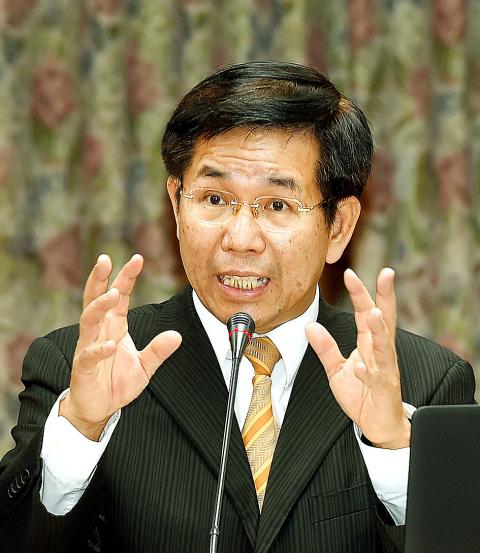 Minister of Education Pan Wen-chung speaks at the legislature's Education and Culture Committee in Taipei on Wednesday.
Photo: Fang Pin-chao, Taipei Times
The political manipulations had given ministry employees unnecessary stress and placed an uncalled-for burden on them, he said.
Kuan was on Jan. 5 elected NTU president, but his inauguration was postponed after he faced allegations of a conflict of interest in the election, plagiarism and illegally teaching in China as a government-contracted professor.
Throughout his career as a public servant, he always abided by the law, including in his handling of the controversy surrounding Kuan's election, Pan said in the statement.
The ministry, as the university's governing agency, is obligated to ensure that the election was entirely procedurally sound and that the NTU president-elect has the qualifications to assume the post, he said.
Despite the university discussing issues surrounding Kuan's election in internal meetings, questions still remain, and the ministry would be negligent if it did not try to clear up these doubts, Pan said.
The university's president has a high status in academia and should stand up to public scrutiny, he said, adding that Kuan has a responsibility to clarify controversy stemming from his "own behavior."
Kuan's reticence over questions raised about him runs counter to public expectations and the doubts have in turn made the ministry a source of public criticism, Pan said.
He said he hopes that all political manipulations surrounding the issue would cease following his resignation, so that public attention would focus on the legitimacy of the elections and Kuan's qualifications.
Lai yesterday said that he "reluctantly" approved Pan's resignation.
Hopefully, Pan's resignation would help establish a socially acceptable standard for the election of university presidents, Lai said.
Lai said he admires and respects Pan's work to clear up doubts over Kuan's suitability, while acknowledging his contributions as a tenured educator.
The premier also conveyed the hope that Kuan would address the public over the allegations that he illegally taught in China, so that the controversy can be laid to rest.
Additional reporting by Lee Hsin-fang
Comments will be moderated. Keep comments relevant to the article. Remarks containing abusive and obscene language, personal attacks of any kind or promotion will be removed and the user banned. Final decision will be at the discretion of the Taipei Times.