Transitional justice group head picked
FIRST NAME: Huang Huang-hsiung is a 'patient negotiator' and has the knowledge to lead the transtitional justice promotion committee, the DPP's Ker Chien-ming said
Former Control Yuan member Huang Huang-hsiung (黃煌雄) has been nominated to head the proposed transitional justice promotion committee, Premier William Lai (賴清德) said yesterday.
Lai confirmed that Huang had been picked during a question-and-answer session at the Legislative Yuan after New Power Party (NPP) Legislator Freddy Lim (林昶佐) asked him about media reports that Huang had been tapped by the Executive Yuan to chair the nine-member committee.
The reports "are correct" and the Democratic Progressive Party (DPP) caucus had been informed of the Cabinet's plan, Lai said.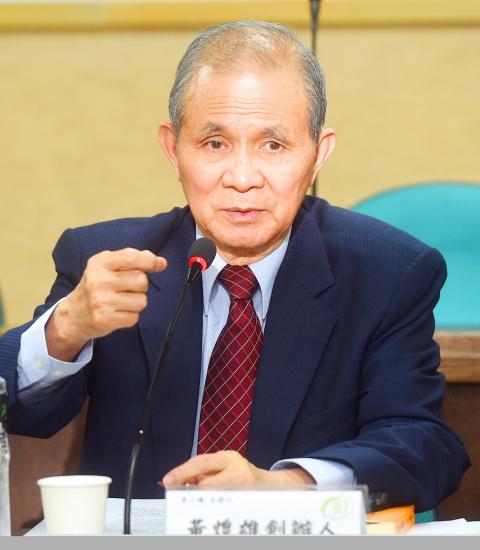 Former Control Yuan member Huang Huang-hsiung speaks at a seminar in Taipei on Sunday last week.
Photo: Chien Jung-fong, Taipei Times
The list of nominees for the committee is to be submitted to the legislature by the end of this week for approval, Lai said, adding that he "respectfully requests" they support Huang's confirmation.
DPP caucus whip Ker Chien-ming (柯建銘) said Huang is "highly qualified" to lead the committee because of his long experience as a legislator, a member of the Control Yuan and an academic.
"Huang is a patient negotiator and has the historical knowledge for the job," Ker said.
DPP Legislator Lo Chih-cheng (羅致政) offered his "complete support" to Huang, adding that Huang has for decades contributed to the nation's democratic development and had served the nation well at the Control Yuan.
Executive Yuan spokesman Hsu Kuo-yung (徐國勇) said a news conference would be held today to formally announce the nominees.
The Act on Promoting Transitional Justice (促進轉型正義條例), passed on Dec. 5 last year, mandates that the Executive Yuan establish an ad hoc committee to implement transitional justice measures set forth under the law.
A nine-member committee is to be composed of a chairman, a vice chairman and three other members who must serve the committee exclusively, in addition to four members who can serve in other posts, the act said.
Neither gender should outnumber the other by more than three on the committee, it added.
Earlier this week, a government official familiar with the matter said that Ill-gotten Party Assets Settlement Committee member Hua Yih-fen (花亦芬) and 228 Massacre expert Chen Tsui-lien (陳翠蓮) were expected to be among those nominated.
Hua and Chen are both on the history faculty at National Taiwan University.
Hua is the author of a book on Germany's experience with transitional justice, titled Reborn from the Wounds of History: Transitional Justice in Germany after 1945 and 1990 (在歷史的傷口上重生:德國走過的轉型正義之路).
Additional reporting by CNA
Comments will be moderated. Keep comments relevant to the article. Remarks containing abusive and obscene language, personal attacks of any kind or promotion will be removed and the user banned. Final decision will be at the discretion of the Taipei Times.