NTU meeting shelves motions on president-elect Kuan
NO WRONGDOING: The College of Management said it has determined that Kuan followed proper procedure to visit China and did not work illegally as a professor
Controversy surrounding National Taiwan University (NTU) president-elect Kuan Chung-ming (管中閔) continued yesterday after all motions related to his inauguration were shelved following votes at an internal university meeting.
Student and faculty representatives at the meeting filed five motions calling for the establishment of a task force to probe his election; nullification of the election result; a review of the election process and amendment of election rules; the university's presidential election committee to render a report on the controversies surrounding the election; and the university's academic ethics committee to report on allegations that Kuan plagiarized a student's thesis in a journal paper.
NTU Department of Physics dean Chang Yuan-huei (張顏暉) called on NTU acting president Kuo Tei-wei (郭大維) to reject all motions regarding Kuan.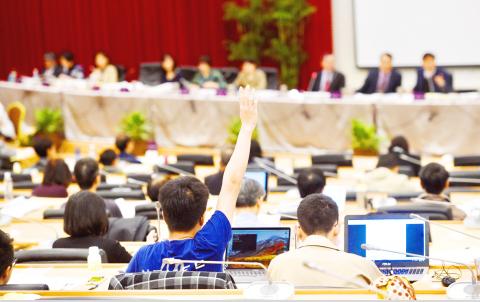 A representative raises his hand at an internal meeting at National Taiwan University in Taipei yesterday.
Photo: Peter Lo, Taipei Times
However, a university official said it would be against meeting rules to reject the motions and recommended that they be shelved instead, which drew protests from the attendees who tendered them.
Kuo then quickly passed out ballots and asked the 150 representatives at the meeting to vote on whether the motions concerning Kuan should be shelved.
Attendees voted to shelve all five motions.
Prior to the vote on the motion that the election committee deliver a report, students in favor of Kuan's inauguration — originally scheduled for Feb. 1 — interrupted the proceedings and urged the university's administrative personnel to allow Kuan to take office as soon as possible, which was met with silence from faculty.
The university's handling of the meeting drew criticism from NTU professor Liu Ching-yi (劉靜怡), who said on Facebook that the school had "put its shamelessness on full display."
At the meeting, the NTU College of Management said it has determined that Kuan did not illegally work as a professor at China's Xiamen University less than one year after retiring as National Development Council minister.
It said the conclusion was based on a reply from Xiamen University to inquiries about Kuan's activities at the Chinese institution.
Kuan followed proper procedure and filed four applications with the government to lecture at Xiamen University within one year of his retirement, all of which were granted, the college said, adding that Kuan visited the university only three times.
It said that in China, Kuan attended meetings and lectures, delivered speeches and published theses, all of which were carried out following proper procedure.
Kuan did not take up a formal teaching post, did not receive a salary and did not serve as a thesis adviser, the college quoted Xiamen University as saying.
He was at Xiamen University for only a brief period of time and he was listed as a visiting professor, an honorary title rather than a formal teaching post, the college said.
Asked for comment, Deputy Minister of Education Lin Teng-chiao (林騰蛟) said that once records of the NTU meeting become available, the Ministry of Education would "properly handle" Kuan's appointment as soon as possible based on the meeting minutes and available information.
Comments will be moderated. Keep comments relevant to the article. Remarks containing abusive and obscene language, personal attacks of any kind or promotion will be removed and the user banned. Final decision will be at the discretion of the Taipei Times.