New MAC head vows to promote cross-strait peace
Newly appointed Mainland Affairs Council (MAC) Minister Chen Ming-tung (陳明通) yesterday promised to pursue "peace and stability across the Taiwan Strait" on his first day at work — the same day that China's Taiwan Affairs Office also welcomed its new minister.
The council held a ceremony to mark the change in leadership from Katharine Chang (張小月) to Chen, with Minister Without Portfolio Lo Ping-cheng (羅秉成) presiding.
Chen served as a council deputy when President Tsai Ing-wen (蔡英文) was the council's minister from 2000 to 2004.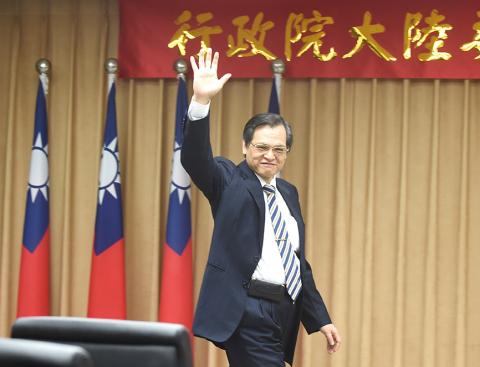 Mainland Affairs Council Minister Chen Ming-tung waves at a handover ceremony before delivering a speech at the council's offices in Taipei yesterday.
Photo: Liu Hsin-de, Taipei Times
He was appointed council minister in April 2007, but served only for a year.
Chen was a professor at National Taiwan University's Graduate Institute of National Development until his latest appointment. He specializes in Chinese politics, cross-strait relations and political elections.
"When I first took office about 11 years ago, I said my duty would bear on the security and property of 23 million Taiwanese, which is a grave responsibility. Today, I have the same feeling as I take up this position," Chen said.
Among the council's former ministers, he has visited China the most often, he said.
Since his first visit to China in 1991 to conduct research in Beijing, he has witnessed its tremendous changes over the years and is able to discuss "a variety of issues" with friends from different backgrounds, he said.
"[I will] do my best to maintain peace and stability across the Taiwan Strait," so that people in different industries can lead a safe and prosperous life, Chen said, adding that he expects to pursue coexistence and mutual prosperity for Taiwan and China.
In Beijing, Liu Jieyi (劉結一), who served as Chinese ambassador to the UN from August 2013 to October last year, took over as Taiwan Affairs Office minister from Zhang Zhijun (張志軍).
Zhang on Sunday was elected a member of the Chinese National People's Congress Standing Committee and yesterday was appointed deputy director of the congress' Foreign Affairs Committee.
Additional reporting by CNA
Comments will be moderated. Keep comments relevant to the article. Remarks containing abusive and obscene language, personal attacks of any kind or promotion will be removed and the user banned. Final decision will be at the discretion of the Taipei Times.