Unseeded Hsieh, Strycova win at BNP Paribas Open
Taiwan's Hsieh Su-wei (謝淑薇) and Czech partner Barbora Strycova on Saturday used "old-school tennis" to overcome the top seeds and claim the doubles title at the BNP Paribas Open.
The unseeded duo, playing in their first tournament as a pairing, overcame blustery conditions in Indian Wells, California, to defeat Russian favorites Ekaterina Makarova and Elena Vesnina 6-4, 6-4 in 1 hour, 23 minutes.
"It was tough, because it was first time for us to play on center court and it was very tricky conditions," Strycova told the WTA Web site. "So you have to focus much more on your service game to put first serves in a lot, like more percentage than normal. You have to play just a little bit differently. Against the wind, we tried to use more lobs. We were maybe little better in these tricky points."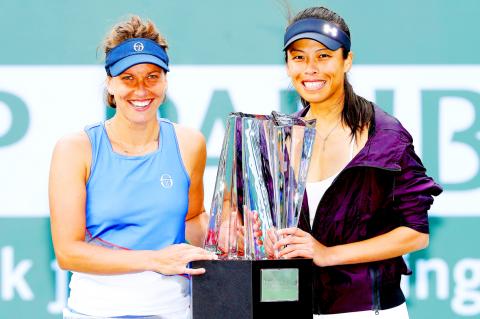 Taiwan's Hsieh Su-wei, right, and Barbora Strycova of the Czech Republic pose with the winner's trophy after defeating Ekaterina Makarova and Elena Vesnina of Russia at the women's doubles final at the BNP Paribas Open in Indian Wells, California, on Saturday.
Photo: AFP
The Taiwanese-Czech duo saved two of five break points and converted five of nine, winning 67 of the 116 points contested.
It was Hsieh's second Indian Wells doubles title after victory with China's Peng Shuai (彭帥) in 2014.
"Barbora just crushed all the volleys," Hsieh told the WTA Web site. "I just focused on putting my ball in on the baseline. I was feeling better after the first match. We are going better and better."
The duo took a last-minute decision to pair up in California; Hsieh had entered with Monica Niculescu, while Strycova planned to play with Svetlana Kuznetsova.
"We know each other, too," Strycova said. "We are [the] same age and we played juniors together. We didn't know each other so much to play together sooner, but off the court, we know each other very well."
Neither Hsieh or Strycova is a big hitter, yet they said their contrast is emotional.
"She's very calm and I'm very emotional, and it fits," Strycova said. "She forces me to stay calm, think a little bit and then take it easy. That works for me."
"I cannot be emotional," Hsieh said.
"No, she cannot," Strycova added.
The Czech said the title was a victory for "old-school" tennis.
"You don't have to have so much power to win tournaments or matches. You can overcome the power with tricky points, to think how you plan the point every time, to cross, or play serve and volley," Strycova said. "So it still works and it's nice. It's a little bit that maybe we play old-school tennis, but it's still working."
Comments will be moderated. Keep comments relevant to the article. Remarks containing abusive and obscene language, personal attacks of any kind or promotion will be removed and the user banned. Final decision will be at the discretion of the Taipei Times.