Cabinet backs Criminal Code changes
LOWERED: The punishment for murdering a close relative is to be lowered to 15 years in prison because some defendants may have been subjected to abuse by their victim
The Cabinet yesterday approved a bill to abolish the statute of limitations for serious criminal offenses, with the current 30-year limit for crimes punishable by death or life sentence to be abolished.
A set of amendments to the Criminal Code have been approved to abolish the statute of limitations for crimes punishable by death, life imprisonment or a prison sentence of at least 10 years if any death is caused due to the crimes, the Ministry of Justice said.
Under the proposed amendments, investigations into at least two unsolved cases that occurred in 1996 — a mass shooting at the home of then-Taoyuan County commissioner Liu Pang-yu (劉邦友) and the murder of prominent women's rights activist Peng Wan-ju (彭婉如) — would be able to continue indefinitely, Minister of Justice Chiu Tai-san (邱太三) said.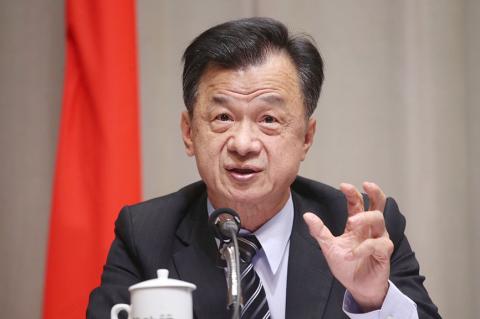 Minister of Justice Chiu Tai-san speaks at a news conference at the Executive Yuan in Taipei yesterday.
Photo: CNA
The punishment for murdering a close relative is to be lowered to a minimum 15 years in prison from the current minimum sentence of life imprisonment because some defendants had been found to have been subjected to abuse by their victims, often their parents, the ministry said.
To protect children, a minimum six months would be added to the current maximum five-year prison sentence for maltreating a minor under the age of 16.
A minimum 10-year sentence would be imposed on people found guilty of committing child abuse that leads to the death of the child.
In cases where someone causes the death of another due to negligence, stiffer penalties have also been proposed, raising the maximum prison sentence from two to five years.
The amendments remove the punishments for killing or injuring a person due to negligence in the performance of occupational duties, as the ministry said a person performing occupational duties has no higher obligation than other people to prevent death or injuries.
A worker causing the death or injuries of others in the line of duty would only be punished by sentences pertaining to negligence instead of occupational negligence.
The amendments would also increase the maximum prison sentence for assault from three to five years and add to that category the act of deliberately infecting someone with a venereal disease.
Deliberately spreading a venereal disease is currently punishable by a maximum prison sentence of one year and mandatory treatment.
The amendments would also give the judiciary a broader authority to confiscate money made illegally.
Currently, it is prohibited to confiscate the illegal gains if they are discovered after conviction and the amendments would lift that prohibition.
The draft bill also addresses the issue of fines, stipulating up to NT$100,000 for offenses that carry a maximum prison sentence of one year, NT$200,000 for those with a maximum sentence of two years, NT$300,000 for those with a maximum sentence of three years and NT$500,000 for offenses that carry a maximum sentence of five years.
Additional reporting by CNA
Comments will be moderated. Keep comments relevant to the article. Remarks containing abusive and obscene language, personal attacks of any kind or promotion will be removed and the user banned. Final decision will be at the discretion of the Taipei Times.