Beijing shake-up to result in increased restrictions
SALAMI TACTICS: A high-level official said China wants to 'deepen its friendship with Taiwan' a day after state media threatened war over a Taiwan-friendly US bill
Beijing is expected to further constrict Taiwan's international space by intervening in the nation's relations with key players in the international community, following a government restructuring that is expected to be approved by the Chinese Communist Party (CCP) at its annual meeting tomorrow.
Using "salami tactics" — a divide-and-conquer process of using threats and alliances to overcome opposition — China is expected to focus more on influencing Taiwan's relations with key international players, such as the US, while continuing to conduct military drills near Taiwan, court its diplomatic allies and ramp up military and economic pressure on the nation, the Hong Kong-based South China Morning Post reported yesterday.
While it is unclear how the restructuring would affect China's Taiwan Affairs Office (TAO) and other agencies responsible for Beijing's Taiwan policy, former Chinese ambassador to the UN Liu Jieyi (劉結一) is expected to play a role, the newspaper said.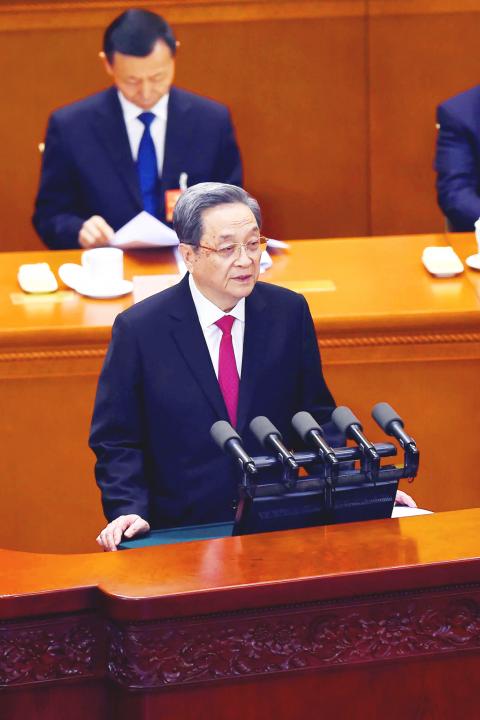 National Committee of the Chinese People's Political Consultative Conference Chairman Yu Zhengsheng delivers a report during the opening session of the conference in Beijing yesterday.
Photo: AFP
Liu is TAO deputy chairman.
The restructuring is aimed at pressuring the Democratic Progressive Party (DPP) administration into acknowledging the so-called "1992 consensus," experts said.
The "1992 consensus," a term former Mainland Affairs Council chairman Su Chi (蘇起) in 2006 admitted making up in 2000, refers to a tacit understanding between the Chinese Nationalist Party (KMT) and the Chinese government that both sides of the Strait acknowledge there is "one China," with each side having its own interpretation of what "China" means.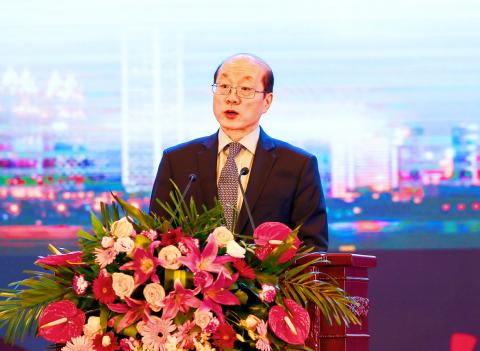 China's Taiwan Affairs Office Vice Minister Liu Jieyi speaks at a news conference on Nov. 8 last year.
Photo: CNA
"Beijing has made it clear that Tsai has to give a satisfactory explanation for the '1992 consensus,' otherwise Beijing will not pull any punches," the Post quoted Xiamen University Taiwan affairs professor Ji Ye as saying.
China's poaching of Taiwan's diplomatic allies is likely to continue, "because neither Beijing nor Taipei show any inclination toward changing their policies," Ji said.
Meanwhile, experts said that Beijing's increasing diplomatic and military pressure on Taiwan is likely to backfire.
Beijing could conduct more military drills around Taiwan and steal more of its diplomatic allies, but contrary to their goals, this would only further alienate Taiwanese and stir up anti-China sentiment, Center for Strategic and International Studies senior adviser for Asia Bonnie Glasser said.
At the very least, Beijing wants to "seriously undermine" President Tsai Ing-wen's (蔡英文) administration and "torpedo" her re-election prospects in 2020, RAND Corp senior defense analyst Derek Grossman said. "I believe this effort will backfire in the long run, because the Taiwanese people will see China in an increasingly negative light."
Meanwhile, the CCP's fourth-ranked leader, Chinese People's Political Consultative Conference Chairman Yu Zhengsheng (俞正聲), yesterday said that China wants to "deepen its friendship with Taiwan."
The remarks came a day after Chinese state media said Beijing could go to war over Taiwan if a US bill promoting closer ties with Taiwan becomes law.
China has been infuriated over the bill, telling Taiwan on Friday it would get burned if it relied on foreigners, adding to the warnings from state media about the risk of war.
The legislation, which only needs the US president's signature to become law, says it should be US policy to allow officials at all levels to travel to Taiwan to meet their counterparts, permit high-level Taiwanese officials to enter the US "under respectful conditions" and meet with US officials.
Yu put on a friendlier face at the opening session of a largely ceremonial advisory body to the legislature that he heads, making no direct mention of the bill.
"We will deepen solidarity and friendship with our compatriots in Hong Kong, Macau and Taiwan, as well as overseas Chinese," Yu told about 2,000 delegates to the conference in Beijing.
Comments will be moderated. Keep comments relevant to the article. Remarks containing abusive and obscene language, personal attacks of any kind or promotion will be removed and the user banned. Final decision will be at the discretion of the Taipei Times.