CAL fires flight attendant over suspected smuggling
China Airlines Ltd (CAL, 中華航空) yesterday fired a flight attendant after 6kg of gold bars were found in her luggage when she entered Japan on Saturday last week.
The flight attendant, surnamed Kuan (關), was at work on a flight to Japan, according to a report from the Chinese-language Liberty Times (the Taipei Times' sister newspaper).
She was allegedly promised a reward of about NT$33,000 if she smuggled the gold into Japan.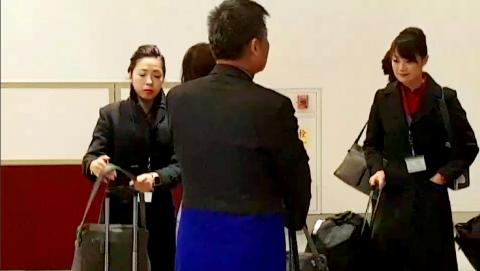 A video image released by Japanese customs shows a China Airlines flight attendant, surnamed Kuan, left, taking her carry-on luggage through customs on arrival in Osaka on Saturday.
Photo copied by Tony Yao, Taipei Times
Japanese customs officers found the gold bars in Kuan's carry-on luggage, and she was fined for failing to declare the items.
She was sent back to Taiwan Taoyuan International Airport on Monday afternoon.
The airline held a personnel review meeting yesterday and decided to fire Kuan, as she was deemed to have committed a smuggling offense, which it said has seriously damaged the company's image.
China Airlines also promised that it would fully cooperate with the authorities, saying it would not allow smugglers to take advantage of its services.
Employees engaging in illegal acts would be subject to severe punishment, as the company has vowed to the maintain the discipline of its cabin crew, the company said.
The Liberty Times report also showed a photograph of a brochure encouraging flight attendants to bring gold bars into Japan, which was said to have been circulating among flight crew for some time.
Based on the brochure, each gold bar, measuring 12cm by 5cm by 1cm, weighs 1kg. The reward for carrying the gold is NT$5,500 per kilogram.
The brochure says that it is a low-risk job because Japanese customs officers are less strict in inspecting the luggage of cabin crew.
The flight attendant was able to board the flight in Taoyuan because she picked up the gold bars from the airport warehouses after her luggage passed through security, the report said.
In related news, the company said it would severely punish three other flight attendants for failing to report for duty on time in Melbourne, Australia.
The three were supposed to be on stand-by, but instead traveled to New Zealand, it said.
They were barred from boarding the flight back to Australia because they did not have travel visas, it said.
Any negligence on the part of flight attendants can affect the punctuality of its flight services and compromise aviation safety, it said.
Failure to report for duty on time is ill-advised, but working with smugglers to commit crimes is an inexcusable offense, the company said.
Comments will be moderated. Keep comments relevant to the article. Remarks containing abusive and obscene language, personal attacks of any kind or promotion will be removed and the user banned. Final decision will be at the discretion of the Taipei Times.