Probe launched after fire at CPC Taoyuan plant
An early morning fire at CPC Corp, Taiwan's (CPC, 台灣中油) refinery in Taoyuan's Gueishan District (龜山) took about an hour to bring under control, but no one was injured and the company said the incident would not significantly affect its diesel supplies.
An explosion in a reheating furnace tube in a diesel hydrotreating unit at 6:40am sparked the fire, the state-owned refiner said in a statement, adding that the refinery had just resumed production after undergoing planned maintenance from Dec. 25 last year to Saturday.
Total damage and the cause of the accident are being investigated and the results would be released in a week, CPC vice president J.Z. Fang (方振仁) told a news conference in Taipei.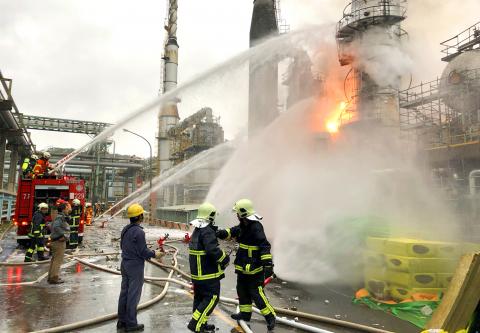 Taoyuan Fire Department firefighters work to bring a blaze under control yesterday following a fuel explosion at a diesel hydrotreating unit within state-run CPC Corp's Taoyuan refinery in the city's Gueishan District.
Photo: CNA, courtesy of Taoyuan Fire Department
Repairs were expected to take 20 to 30 days, and CPC would ensure sufficient domestic supplies by channeling supplies from its other local refineries, he said.
The Taoyuan refinery, which is capable of producing 30,000 barrels, or 4,800 kiloliters, of super diesel per day, accounts for nearly 20 percent of CPC's total production volume, data showed.
The explosion also sparked severe criticism from Taoyuan officials and environmental activists because of the company's failure to relocate the plant.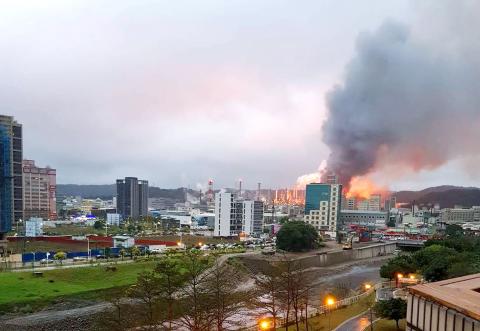 Smoke billows from state-run CPC Corp's Taoyuan refinery in Gueishan District yesterday after an explosion and fire at a diesel hydrotreating unit.
Photo: CNA
Taoyuan Mayor Cheng Wen-tsan (鄭文燦) said in a Facebook post that it is improper to have a refinery in such a densely populated area, as 760,000 people live in the three districts nearest the plant.
The Ministry of Economic Affairs in 2003 pledged to move the plant within 10 years and the promise seems to have been broken, Cheng said, urging CPC to implement the long-stalled relocation plan.
CPC is still assessing possible locations for the refinery, CPC chairman Tai Chein (戴謙) told reporters, adding that the detailed plan for relocation can be completed one year after a site is found.
To ensure abundant oil supplies in the domestic market, CPC said it seek the new location for the Taoyuan refinery first, instead of "recklessly" demolishing it.
The ministry expects to receive a report on the explosion in one week and will punish the refinery with the strictest standard if needed, Minister of Economic Affairs Shen Jong-chin (沈榮津) said.
"We will do whatever we should to punish [CPC] if the incident was caused by human error," Shen told reporters on the sidelines of a news conference in Taipei.
He said he has requested the State-owned Enterprise Commission to review CPC's recent occupational safety incidents to see "what went wrong" in the company.
Yesterday's fire was not CPC's first incident this year. Five people were injured in a Jan. 18 explosion at CPC's nitrogen gas supply center in Miaoli.
Additional reporting by Lauly Li
Comments will be moderated. Keep comments relevant to the article. Remarks containing abusive and obscene language, personal attacks of any kind or promotion will be removed and the user banned. Final decision will be at the discretion of the Taipei Times.