NTU rejects allegations that its future president plagiarized student's thesis
National Taiwan University (NTU) on Friday night rejected allegations that university president-elect Kuan Chung-ming (管中閔) plagiarized a student's master's thesis on the grounds that Kuan's conference paper was not a "formal publication."
A conference paper published last year coauthored by Kuan and National Chi Nan University professor Chen Chien-liang (陳建良) entitled An Empirical Study of the Effect of the Economic Cooperation Framework Agreement on Exports contains 15 uncited sentences and charts that are highly similar to those in a master's thesis published in 2016 by one of Chen's students, Democratic Progressive Party Legislator Chang Liao Wan-chien (張廖萬堅) told a news conference on Thursday.
The university said in a statement on Friday that Kuan did not violate its code of academic conduct, because the conference paper was not a "completed and formal publication that must conform to the specific academic style of its discipline."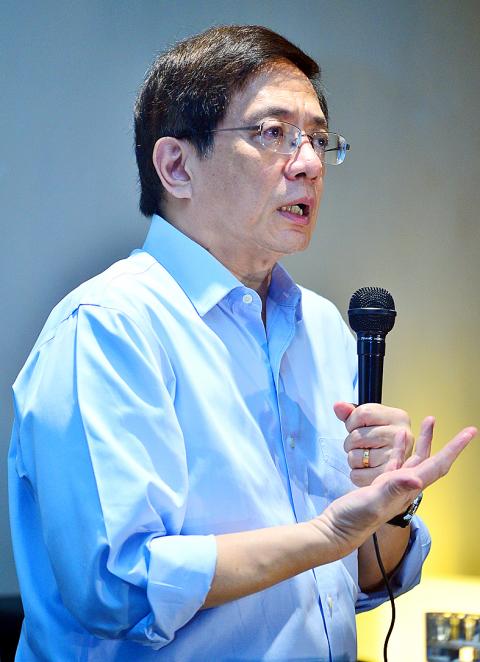 National Taiwan University president-elect Kuan Chung-ming speaks at an event in Taipei on Jan. 7.
Photo: Wang Yi-sung, Taipei Times
After consulting with the Academia Sinica Research Center for Humanities and Social Sciences, which co-organized the conference with the NTU Department of Economics, the university's ethics committee concluded that the conference was an "informal conference [for academics to] share their research and receive feedback," the university said.
Conference papers were not peer-reviewed and were only published in the conference proceedings, the university said.
The proceedings were designed to facilitate discussion among participants and do not have an international standard book number, NTU said, adding that conference papers are not available in major libraries and have not been formally distributed.
The university also said in the statement that Kuan had obtained its approval to serve as an independent director of Taiwan Mobile Co(台灣大哥大) on May 17 last year.
Wang Li-sheng (王立昇), an NTU professor and ethics committee member, said Academia Sinica had told the university that the conference proceedings were "a collection of working papers."
However, the conference's call for papers clearly required participants to submit their "full paper" by April 4 last year, and Kuan's paper appears to be complete and does not contain any notes stating that it is a work in progress.
Several academics yesterday accused NTU of failing to properly investigate the accusations of plagiarism.
"There is no such a thing as an informal research paper," NTU Department of Agronomy professor Warren Kuo (郭華仁) said, adding that the ethics committee members are unqualified for their job.
NTU Graduate Institute of National Development professor Liu Ching-yi (劉靜怡) questioned Academia Sinica's role in supporting the university's claim that papers presented at the conference were informal.
"Why is Academia Sinica diminishing the value of its own conference?" she asked, adding that maybe the institution should tell famous academics planning to attend Academia Sinica conferences that there is no need to go, because their papers would not be treated as "formal papers."
Academics should take responsibility for any works they publish and where they publish is irrelevant when determining what constitutes plagiarism, National Taiwan Normal University Department of English professor Huang Han-yu (黃涵榆) said, adding that academics could even be charged with fraud if they received research subsidies for a paper they plagiarized.
Kuan's supporters at NTU late on Friday set up a Web page demanding that Ministry of Education respect the university's autonomy.
At press time last night, the page had collected more than 1,000 signatures from supporters, including former NTU presidents Sun Chen (孫震) and Lee Si-chen (李嗣涔).
Comments will be moderated. Keep comments relevant to the article. Remarks containing abusive and obscene language, personal attacks of any kind or promotion will be removed and the user banned. Final decision will be at the discretion of the Taipei Times.