Taipei on alert for New Year festivities
BOMB THREAT: Authorities tracked down and detained a Keelung resident who said online that he planned to plant a bomb at Taipei Railway Station on New Year's Eve
The Taipei City Government is to deploy more than 1,000 police officers to maintain public safety at the Taipei New Year's Eve Countdown Party, while balloons and aerial drones will also be prohibited from the area.
The Taipei Police Department's Xinyi Precinct (信義) yesterday said that it has formed a counterterrorism task force with the Wei-an Police Special Services Commando Unit to guard against the possibility of a terrorist attack during the celebration, which is to start at 7pm today at the Taipei City Hall Square.
About 1,100 officers would be assigned to keep order at the party venue and at nearby intersections, Xinyi Precinct Deputy Chief Chen Shao-hsu (陳少旭) said, adding that counterterrorism police and sniffer dogs would also patrol the area, looking for suspicious people or hidden explosives.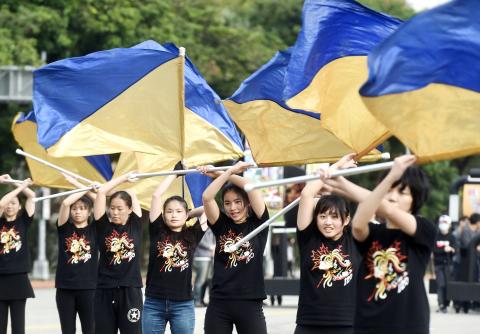 Members of the Zhongshan Girls' High School marching band and color guard yesterday rehearse in preparation for the New Year's Day raising-of-the-flag ceremony at the Presidential Office Building in Taipei.
Photo: Chien Jung-fong, Taipei Times
To prevent a vehicle-ramming attack, large vehicles would be barred around the venue from 6pm, the precinct said, adding that barriers would also be placed at major intersections.
"Aerial drones have become more popular in recent years, so we have prepared drone defender rifles to make sure unauthorized aerial photography drones do not fly into the controlled zone, to ensure public safety," Chen said.
Balloons, including light-up types, would be prohibited in the venue and the surrounding controlled area, and police would stop people who carry them or stalls that sell them in the area, he added.
Photo: Taipei Times
Separately, the Railway Police Bureau's Taipei Precinct said that it received a report from the Taipei Police Department yesterday morning about someone who posted a message on Facebook saying that he would "place a bomb at Taipei Railway Station on New Year's Eve."
Police tracked the suspect's Internet protocol address and identified him as a man surnamed Hsu (徐) living in Keelung.
Hsu was taken to a police station for questioning and was charged with public intimidation.
Police urged people not to post such online threats, as they contravene the Social Order Maintenance Act (社會秩序維護法) and are punishable as an offense of public intimidation based on the Criminal Code.
Comments will be moderated. Keep comments relevant to the article. Remarks containing abusive and obscene language, personal attacks of any kind or promotion will be removed and the user banned. Final decision will be at the discretion of the Taipei Times.