Ma sues Taipei prosecutors
Former president Ma Ying-jeou (馬英九) yesterday filed a lawsuit against Taipei prosecutors for allegedly leaking details from a case under investigation, after media reports that prosecutors have a recording allegedly implicating Ma in financial irregularities arising from the sale of party assets more than a decade ago.
With his security escorts in tow, Ma filed his complaint naming Chief Prosecutor Shing Tai-chao (邢泰釗) and head prosecutor Wang Hsin-chien (王鑫健) as those allegedly responsible for the leaks at the Taipei District Prosecutors' Office.
He then went to the Taiwan High Prosecutors' Office to apply for a transfer of the case under investigation to another jurisdiction.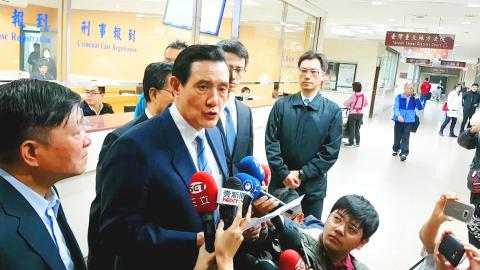 Former president Ma Ying-jeou talks to reporters yesterday at the Taipei District Prosecutors' Office, where he filed a lawsuit against Chief Prosecutor Shing Tai-chao and head prosecutor Wang Hsin-chien for allegedly leaking confidential information about an ongoing lawsuit involving Ma.
Photo: Hsieh Chun-lin, Taipei Times
The latest development came after the Chinese-language Mirror Media magazine reported that Taipei prosecutors had a recording of Ma giving undue financial benefits to the buyer of China Television Co (CTV, 中視) in 2005, as the Chinese Nationalist Party (KMT) made plans to sell party-owned media companies.
The digital recording was purportedly made in December 2005 during a meeting of top party officials and executives of KMT-controlled Central Investment Co (CIC, 中央投資公司) to discuss the sale of CTV to China Times Group (中時集團).
China Times Group was then owned by the Yu family, which is headed by Yu Chien-hsin (余建新).
Yu had negotiated a deal to buy CTV for NT$892 million (US$29.71 million at the current exchange rate), but it fell short of CIC executives' expectations by NT$480 million.
The two sides were deadlocked over the price difference, but when then-KMT chairman Ma joined the meeting, he allegedly said: "Then let's make a concession (回饋) for them."
If the recording could be verified, it would be a breakthrough in the case, showing Ma was instrumental in concluding the sale and that he gave instructions for financial kickbacks to Yu, which resulted in the NT$480 million loss, legal experts said.
Ma's alleged remark was found among hundreds of digital recordings transferred to CDs, which were gathered in raids of CIC's headquarters.
Ma had been listed as a possible defendant in the probe into financial irregularities regarding the KMT's sale of party-owned media companies and other valuable assets in the 2000s.
Based on the recording, it could be inferred that Ma was the main decisionmaker in the process and if found guilty, he could face breach of trust and violations of the Securities and Exchange Act (證券交易法) charges because it would indicate that Ma, as party chairman, knew about the sale of KMT-owned companies below their market value and gave undue financial benefit to buyers, experts said.
Media reports also said that prosecutors found a photograph showing a gift box containing NT$5 million in cash, allegedly given by Yu to former CIC chairman Chang Che-chen (張哲琛), purportedly to win approval for Yu's purchase of CTV below market price.
Ma said the Taipei prosecutors had not adhered to the principle of confidentiality in a case under investigation.
The Taipei District Prosecutors' Office yesterday said in a statement that the allegations reported in the media had not been verified and had nothing to do with any of the prosecutors, adding that people should not engage in speculation.
Prosecutors had been focusing on suspected financial irregularities regarding the KMT's sale of CTV, along with Central Motion Picture Corp (中影) and Broadcasting Corp of China (中廣), as the KMT had to dispose of the three companies after a 2003 amendment to the Broadcasting and Television Act (廣播電視法), which barred political parties, the military and politicians from owning media outlets.
Comments will be moderated. Keep comments relevant to the article. Remarks containing abusive and obscene language, personal attacks of any kind or promotion will be removed and the user banned. Final decision will be at the discretion of the Taipei Times.