Ma questions premier's remarks on ongoing case
Former president Ma Ying-jeou (馬英九) yesterday questioned whether it was appropriate for Premier William Lai (賴清德) to comment on an ongoing judicial case in which Ma is involved, accusing Lai of setting a bad example.
Ma made the remarks on the sidelines of the Soochow International Ultra-Marathon at Taipei's Soochow University, where he braved a drizzle to join a 30-minute run for celebrities.
"I do not think the premier commenting on an ongoing case on TV is setting a good example. I am surprised our justice minister did not remind him beforehand that doing so would be inappropriate," Ma said.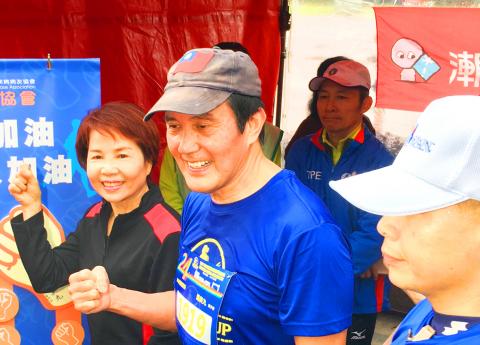 Former president Ma Ying-jeou smiles after participating in a 30-minute run of the Soochow International Ultra-Marathon in Taipei yesterday.
Photo: Cheng Hung-ta, Taipei Times
Ma was referring to Lai's televised interview on SET News' political talk show New Taiwan Refueling (新台灣加油) that was aired on Thursday, in which the premier was asked whether President Tsai Ing-wen's (蔡英文) plummeting approval rating was related to a number of unresolved high-profile cases.
Host Liao Hsiao-chun (廖筱君) provided a few examples, including a Taipei District Prosecutors' Office investigation into several questionable transactions of Chinese Nationalist Party (KMT) assets when Ma was KMT chairman, a scandal-plagued Ministry of National Defense minesweeper project and the Taipei Dome construction project.
Ma was on Wednesday questioned by the office for more than 14 hours over his links to the KMT asset case.
In the interview, Lai said that other issues, such as air pollution and the government's much-criticized "one fixed day off and one flexible rest day" five-day workweek policy, could affect Tsai's approval rating.
However, the premier said that when judges hand down rulings that fail to meet the public's reasonable expectations, the current administration takes the blame.
"Neither President Tsai nor myself are able to intervene in the judicial process," Lai said, adding that he has always supported judicial reform in the hopes of making the law the last line of defense for social justice.
Asked about Ma's remarks, Executive Yuan spokesman Hsu Kuo-yung (徐國勇) yesterday said that Lai did not comment on a specific case, but rather offered his opinions about the nation's ongoing judicial reform.
The incident was reminiscent of a similar situation in November 2010, when the Taipei District Court found former president Chen Shui-bian (陳水扁) not guilty of taking bribes to protect financial firms during the second phase of financial reform.
While then-president Ma said it was not appropriate for him to comment on Chen's case, he urged the judicial system to not stray from the public's reasonable expectations and to protect the interests of "good people."
Additional reporting by CNA
Comments will be moderated. Keep comments relevant to the article. Remarks containing abusive and obscene language, personal attacks of any kind or promotion will be removed and the user banned. Final decision will be at the discretion of the Taipei Times.