'Giant leap backward' in emissions
Carbon dioxide emissions are set to rise this year after a three-year pause, scientists said on Monday at UN climate talks, warning that "time is running out," even as White House officials used the occasion to champion the fossil fuels that drive global warming.
CO2 emissions, flat since 2014, were forecast to rise 2 percent this year, dashing hopes they had peaked, scientists reported at 12-day negotiations in the German city of Bonn ending on Friday.
"The news that emissions are rising after a three-year hiatus is a giant leap backward for humankind," said Amy Luers, executive director of Future Earth, which cosponsored the research.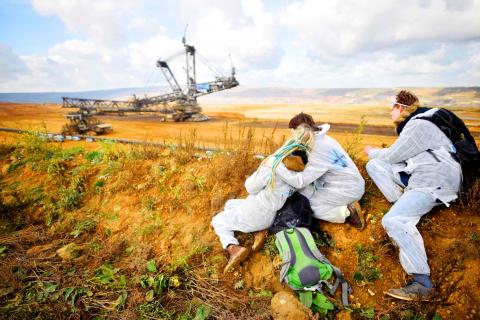 Environmentalists look on as police prevent others from marching after they managed to enter the Hambach lignite open pit mine near Elsdorf, Germany, during a protest on Nov. 5 against the use of fossil fuels.
Photo: AFP
Global carbon dioxide emissions for this year were estimated at a record 41 billion tonnes.
"Time is running out on our ability to keep warming below 2°C, let alone 1.5°C," said lead author Corinne Le Quere, director of the Tyndall Centre for Climate Change Research at the University of East Anglia.
With the planet out of kilter after only 1°C of warming — enough to amplify deadly heatwaves, droughts and superstorms — the treaty also vows to explore the feasibility of holding the line at 1.5°C.
"As each year ticks by, the chances of avoiding 2°C of warming continue to diminish," said coauthor Glen Peters, research director at the Center for International Climate Research in Oslo, Norway.
The study identified China as the single largest cause of resurgent fossil fuel emissions this year, with the nation's coal, oil and natural gas use up 3, 5 and 12 percent respectively.
Earth is overheating due to the burning of oil, gas and especially coal to power the global economy.
That did not discourage US officials from the administration of US President Donald Trump from making a case at the UN negotiations for "the role of cleaner and more efficient fossil fuels and nuclear power in climate mitigation."
"Without a question, fossil fuels will continue to be used," George David Banks, a special energy and environment assistant to Trump, told a standing-room only audience, citing projections from the International Energy Agency.
Faced with this reality, "we would argue that it's in the global interest to make sure that when fossil fuels are used, that it's as clean and efficient as possible," Banks said.
Flanked by Francis Brooke from the office of US Vice President Mike Pence and senior representatives of US energy companies, Banks addressed a packed room where protesters shouted: "You're liars" and "There's no clean coal."
Former New York mayor Michael Bloomberg, UN special envoy for cities and climate change, said on Twitter: "Promoting coal at a climate summit is like promoting tobacco at a cancer summit."
Comments will be moderated. Keep comments relevant to the article. Remarks containing abusive and obscene language, personal attacks of any kind or promotion will be removed and the user banned. Final decision will be at the discretion of the Taipei Times.