Soong caps APEC trip with Abe meeting
SIDELINE SESSIONS: The president's envoy, James Soong, had tea with Singapore's prime minister and a 30-minute talk with Japan's leader before flying back to Taiwan
Japanese Prime Minister Shinzo Abe yesterday met Taiwan's special APEC envoy James Soong (宋楚瑜) for 30 minutes on the sidelines of the two-day meeting the APEC leaders summit in Da Nang, Vietnam.
Abe told Soong that Japan and Taiwan share common values, close economic ties and people-to-people interactions, and that he looked forward to further strengthening their unofficial ties, according to a news release from Japan's Ministry of Foreign Affairs.
Abe also said Japan would work to deepen the cooperation and exchanges with Taiwan on the basis of informal, but substantive relations, according to the news release.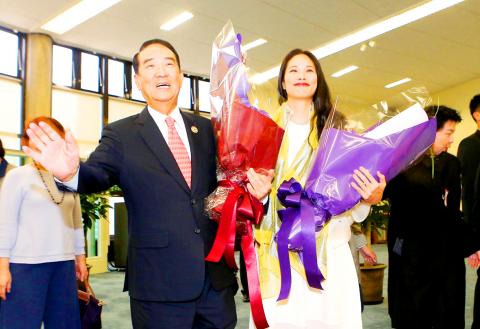 Special presidential envoy to the APEC leaders' summit James Soong, left, and his daughter, Soong Cheng-mai, smile after being given bouquets upon their arrival yesterday at Taiwan Taoyuan International Airport.
Photo: CNA
It said Abe and Soong agreed that the two nations must continue to deepen their substantial links in a wide range of areas.
When Soong raised the issue of the latest developments in relations between Taiwan and China, Abe suggested that such matters be addressed peacefully through direct dialogue, the ministry said.
Abe also said he was committed to helping to maintain regional peace and stability, the ministry said.
Earlier in the day Singaporean Prime Minister Lee Hsien Loong (李顯龍) posted a photograph on Facebook of him and his wife, Ho Ching (何晶), having tea with Soong and Soong's daughter, Soong Cheng-mai (宋鎮邁).
Lee posted that he was happy to meet James Soong.
The People First Party chairman, speaking to the media on Saturday, said he had the opportunity to have "very good interactions" with US President Donald Trump and US Secretary of State Rex Tillerson, among others, during informal moments between summit events.
He said he would report to the government in Taipei before speaking more about the contents of those conversations, but said they had been held in an atmosphere of "great consideration."
His meeting with Chinese President Xi Jinping (習近平) was "natural and friendly," he said, but "this is not the occasion for cross-strait political talks."
At a news conference on Saturday after the conclusion of the summit, he said his mission as Taiwan's envoy was not to seek any diplomatic breakthrough, but to build trade and economic links.
He said he had taken part in an informal discussion among APEC and ASEAN leaders, which was held for the first time as part of the annual APEC summit, and the discussions helped to significantly advance the goals of Taiwan's New Southbound Policy.
He said his discussions with ASEAN leaders also focused on economic and trade issues, and that he told them there was no need to take sides between Taiwan and China.
The discussions also extended to the leaders of Laos and Myanmar, he said.
In talks with Laotian President Bounnhang Vorachit, he said he stressed that Taiwan was aiming to deepen cooperation in agriculture and infrastructure construction, while in meeting with Burmese State Councilor and Foreign Minister Aung San Suu Kyi, he said Taiwan would like to boost economic and trade relations with Myanmar.
He said he also spoke with South Korean President Moon Jae-in and expressed Taiwan's support for the UN Security Council's resolutions to impose new sanctions on North Korea.
The Taiwanese delegation made a great effort at the APEC summit, James Soong said.
His delegation flew home yesterday and was greeted at Taiwan Taoyuan International Airport by Minister of Foreign Affairs David Lee (李大維) and Presidential Office Secretary-General Joseph Wu (吳釗燮).
Additional reporting by Reuters
Comments will be moderated. Keep comments relevant to the article. Remarks containing abusive and obscene language, personal attacks of any kind or promotion will be removed and the user banned. Final decision will be at the discretion of the Taipei Times.