Qualcomm halts talks with ITRI
The Industrial Technology Research Institute (ITRI, 工研院) yesterday said it has received an oral notice from Qualcomm Inc to suspend negotiations over their 5G collaboration, after the US chip giant was fined NT$23.4 billion (US$773 million) for breaching Taiwan's antitrust law.
The fine was imposed by the Fair Trade Commission on Oct. 11, saying that Qualcomm had contravened Taiwan's competition law by manipulating its dominant position in the mobile baseband sector and thwarting other players' participation in the market.
The decision led to widespread discussions and concern that it might jeopardize Taiwan's partnership with Qualcomm in the 5G field and dash its hope of joining the global 5G supply chain in the beginning phase.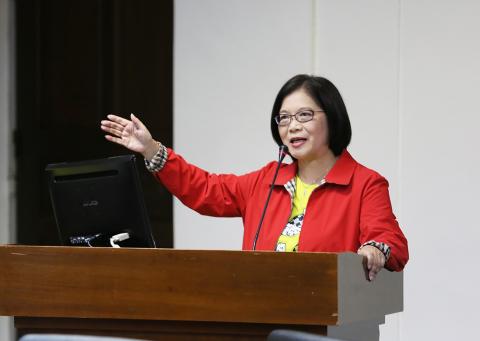 Democratic Progressive Party Legislator Kuan Bi-ling yesterday questions Fair Trade Commission Chairwoman Huang Mei-ying, not shown, during an Economics Committee meeting at the Legislative Yuan in Taipei.
Photo courtesy of Kuan Bi-ling's office
"If we do not impose any penalty, I do not know how the competition law can work," FTC chairwoman Huang Mei-ying (黃美瑛) said yesterday as she defended the decision during a question-and-answer session at the Legislative Yuan in Taipei.
Qualcomm plans to discuss with the commission how to pay the fine, Huang said.
ITRI's statement yesterday suggested that the worries might be realized.
"The institute has been notified orally by Qualcomm to halt conveying meetings about 5G cooperation," it said in a statement, adding that it has been regularly meeting with Qualcomm representatives to exchange views on 5G technologies.
The institute would continue its research and development in 5G and related technologies to help facilitate the local industries' development, the statement said.
It said it is evaluating the suspension's potential effects on Taiwan's 5G development, but did not elaborate.
Qualcomm said in August that it planned to collaborate with ITRI on 5G NR-enabled small cell technologies.
It said the aim was to accelerate delivery and global commercialization of 5G NR small cell products and infrastructure by Taiwanese original equipment manufacturers and original design manufacturers.
The Ministry of Economic Affairs yesterday said it believes Taiwan's 5G technology development will be affected if Qualcomm ends its collaboration with ITRI.
The ministry said that it has requested the institute to keep communicating with Qualcomm to resume the collaboration.
The ministry last week said it was concerned that the fine could create an unfriendly atmosphere for foreign investments and undermine Taiwan's economic development in the long term.
Additional reporting by Lauly Li
Comments will be moderated. Keep comments relevant to the article. Remarks containing abusive and obscene language, personal attacks of any kind or promotion will be removed and the user banned. Final decision will be at the discretion of the Taipei Times.