Hua Nan Commercial cautioned over skirting rules
HUMBLE: The bank's New York branch denied speculation that it is involved in money laundering and last month met with the US watchdog to discuss compliance issues
Hua Nan Commercial Bank's (華南銀行) New York branch is suspected of skirting financial regulations, Financial Supervisory Commission (FSC) Chairman Wellington Koo (顧立雄) said yesterday.
The branch allegedly received a warning from the New York Department of Financial Services over non-compliance with regulations against money laundering, Koo said to a media event.
Hua Nan Financial Holdings Co (華南金控), the bank's state-run parent company, relayed the warning to the FSC in a timely manner, Koo said, adding that the commission is now monitoring the situation closely.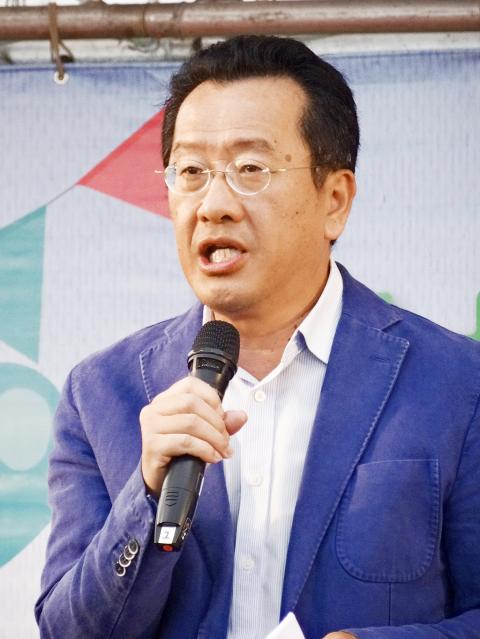 Financial Supervisory Commission Chairman Wellington Koo speaks to reporters in Taipei yesterday.
Photo: Wang Meng-lun, Taipei Times
The department has not published the findings of its probe into the bank's financial operations and it would be inappropriate for the FSC to unilaterally disclose information before it chooses to do so, Koo said.
"It is my understanding that Hua Nan Financial has submitted a proposal on how to improve its compliance with the regulator," Koo said.
The bank is under instruction to inform the FSC and the public immediately if the regulator decides to impose any penalties, he said.
Hua Nan Financial is not the first of the nation's state-run banks to run afoul of the financial services department in recent years.
Last year, the department fined Mega International Commercial Bank's (兆豐銀行) New York branch was fined US$180 million.
However, Hua Nan Financial reacted promptly to the caution and its chairman, Wu Tang-chieh (吳當傑), met with department officials last month to discuss improving the branch's adherence to New York state regulations, sources said.
It is possible that Hua Nan Financial's effective handling of the issue has averted the imposition of fines, they said.
When asked whether the nation is failing to exercise adequate oversight on offshore state-owned banks, Koo said US regulators monitor financial institutions for operational transparency, regulatory compliance and quality of financial products.
Regulators issue warnings to banks that did not meet standards and move to impose fines or other penalties if they fail to comply, he said.
Hua Nan Financial must take action to bring its branch bank into line and wait for the US-based regulator to make a decision, he said.
Hua Nan Commercial Bank said in a statement yesterday that its New York branch was not involved in money laundering, as some media reports speculated.
The bank said it would respect the department's regular inspections and accept its decision with humility.
Comments will be moderated. Keep comments relevant to the article. Remarks containing abusive and obscene language, personal attacks of any kind or promotion will be removed and the user banned. Final decision will be at the discretion of the Taipei Times.