Police raid suspected gang weapons' caches, arrest 40
Authorities yesterday arrested more than 40 suspected gang members after raids in Taipei and Kinmen Island to confiscate firearms and weapons reportedly belonging to the Four Seas Gang and its local chapters, who are suspected of involvement in a series of violent acts.
National Police Agency officials said they had arrested several suspected major Four Seas Gang figures, including Tai Ke-wei (戴克威) and Chien Yu-cheng (簡佑宬) along with subordinate alleged gang members, and planned to press charges on possession of illegal firearms, extortion, violent assault, fraud and other offenses.
As part of its efforts to crack down on illegal gang activity, the agency arrested 25-year-old Tai at his residence in Kinmen, it said.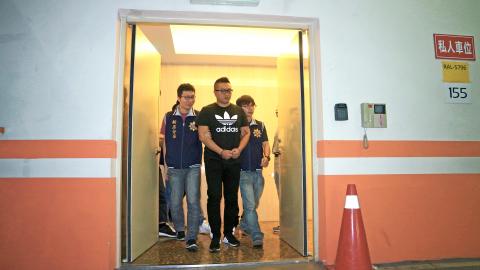 Wu Chen-jung, who claims to be a Bamboo Union spokesman, is escorted by police after being arrested on charges of fraud, extortion and other offenses in New Taipei City yesterday.
Photo: Chen Yi-yun, Taipei Times
He was allegedly in charge of a Four Seas Gang weapons depot.
Police uncovered three handguns and 143 bullets in his home, they said.
Tai is allegedly the second-in-command under Chen Tzu-chun (陳子俊), 28, who is suspected of heading the Four Seas Gang's Sea Giant chapter (海巨堂).
Besides a firearms arsenal in Kinmen, Tai also has other depots in Taipei and New Taipei City, investigators said, adding that the police would conduct searches to locate them.
Tai and Chen are suspected of ordering the Sea Giant chapter members to attack Joshua Wong (黃之鋒) and other Hong Kong democracy activists at Taiwan Taoyuan International Airport on Jan. 7, when the New Power Party invited Wong's group to a forum and activities in Taipei, investigators said.
Police said members of the Bamboo Union and the Chinese Unity Promotion Party (CUPP) are also suspected of attacking Hong Kong democracy activists at the airport on Jan. 7.
Members of the Sea Giant chapter have links with other major criminal gangs who are suspected of physically assaulting students and pro-Taiwan independence group members and acting as "armed security escorts" at pro-China unification events, police said.
In other coordinated raids yesterday, police arrested Chien Yu-cheng, 41, and suspected subordinate gang members in New Taipei City's Sinjhuang District (新莊).
Officials said Chien Yu-chen is head of the Four Seas Gang's Sea Whale chapter (海鯨堂), which is active in New Taipei City.
Police said they confiscated the chapter's arsenal, including homemade bombs, handguns, bullets, samurai swords, knives, clubs and other small weapons in the raid.
Investigators said that Chien and gang members from his chapter were involved in armed kidnapping in a case in April this year, along with burglary, extortion and physical assault.
Police said investigations would continue to determine if Tai and Chien Yu-chen were involved in violence against students and pro-Taiwan independence groups.
Meanwhile, New Taipei City police arrested several alleged members of the Bamboo Union Gang, which police suspect is headed by a man surnamed Lee (李) and a man surnamed Chou (周).
Police confiscated handguns, bullets and other weapons thought to belong to Lee and Chou, who are believed to be involved in illegal drug production.
The raids uncovered hemp plants and pouches commonly used to package "coffee powder" narcotics mixes, police said.
Comments will be moderated. Keep comments relevant to the article. Remarks containing abusive and obscene language, personal attacks of any kind or promotion will be removed and the user banned. Final decision will be at the discretion of the Taipei Times.