Kim calls Trump 'deranged dotard' as North hints at nuclear test in Pacific
GLOBAL COMMUNITY: The Cabinet said Premier William Lai has decided to impose economic sanctions on North Korea as ordered by the UN Security Council
North Korean leader Kim Jong-un yesterday lobbed a string of insults at US President Donald Trump, calling him a "mentally deranged US dotard" and hinting at frightening new weapons tests.
It was the first time that a North Korean leader has issued such a direct statement against a US president, dramatically escalating the war of words between the former wartime foes and raising the international nuclear standoff to a new level.
Trump responded by saying on Twitter that Kim is "obviously a madman who doesn't mind starving or killing his people."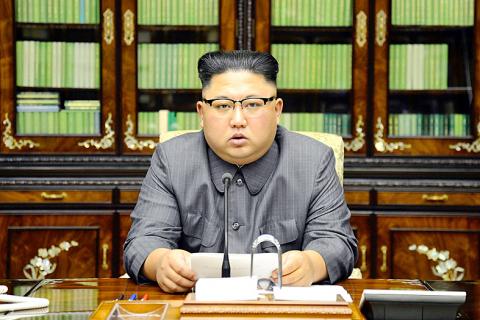 North Korean leader Kim Jong-un delivers a speech in Pyongyang on Thursday.
Photo: EPA-EFE/Korean Central News Agency
In a lengthy statement carried by North Korean state media, Kim said that Trump would "pay dearly" for his threat to destroy North Korea.
He also called Trump "deranged" and "a rogue and a gangster fond of playing with fire."
North Korea will consider the "highest level of hardline countermeasure in history," Kim said, without elaborating, a possible indication of more powerful weapons tests on the horizon.
Asked what the countermeasure would be, North Korean Minister of Foreign Affairs Ri Yong-ho, who was in New York for the UN General Assembly, said the country might test a hydrogen bomb in the Pacific Ocean.
"I think it could be the most powerful detonation of an H-bomb in the Pacific," South Korean TV quoted Ri as saying. "We have no idea about what actions could be taken, as it will be ordered by leader Kim Jong-un."
Kim's statement was unusual, because it was written in the first person.
North Korean state TV later showed a solemn-looking Kim, dressed in a gray Mao-style suit, reading the statement.
The South Korean government said it was the first direct address to the world by any North Korean leader.
Kim's statement was in response to Trump's combative speech at the General Assembly on Tuesday, in which he mocked Kim as "Rocket Man" on a "suicide mission" and said that if "forced to defend itself or its allies, we will have no choice but to totally destroy North Korea."
Kim said Trump's remarks "have convinced me, rather than frightening or stopping me, that the path I chose is correct and that it is the one I have to follow to the last."
He added that he would "tame the mentally deranged US dotard with fire."
North Korea was slapped with new, stiffer sanctions by the UN after its sixth and most power nuclear test on Sept. 3.
Hours before Kim's statement, Trump announced stiffer new sanctions on North Korea as he met with South Korean President Moon Jae-in and Japanese Prime Minister Shinzo Abe for lunch.
Trump's executive order expanded the US Department of the Treasury's ability to target anyone conducting significant trade in goods, services or technology with North Korea, and to ban them from interacting with the US financial system.
Trump also praised China for what he called an instruction to its banks to cut off business with North Korea.
However, Chinese Ministry of Foreign Affairs spokesman Lu Kang (陸慷) said that Trump's announcement was "not consistent with the facts," although he gave no indication what steps China might be taking.
In Taiwan, the Executive Yuan yesterday said in a statement that Premier William Lai (賴清德) has decided to enforce bans on imports from and exports to North Korea.
As Taiwan is part of the international community, it must impose sanctions on North Korea in compliance with the UN Security Council's decisions, Cabinet spokesman Hsu Kuo-yung (徐國勇) said, calling for North Korea to cease actions that harm regional peace, stability and prosperity.
Additional reporting by staff writer
Comments will be moderated. Keep comments relevant to the article. Remarks containing abusive and obscene language, personal attacks of any kind or promotion will be removed and the user banned. Final decision will be at the discretion of the Taipei Times.