Presidential Office mum on 'Starlight'
'BASELESS REPORTS': A Democratic Progressive Party lawmaker said China has been pressuring Singapore to end military exchanges to limit Taiwan's international space
The Presidential Office yesterday declined to comment on media reports that Singapore would stop sending troops to Taiwan to participate in a long-running joint military exercise, saying only that the government greatly values its friendship with Singapore.
"The government greatly values its long and strong friendship with Singapore. The Presidential Office has no comment on baseless news reports," Presidential Office spokesman Alex Huang (黃重諺) said in response to media requests for comment on Singapore's rumored plan to end military exchanges with Taiwan.
Ministry of National Defense spokesman Major General Chen Chung-chi (陳中吉) also declined to comment on the news, calling it speculation.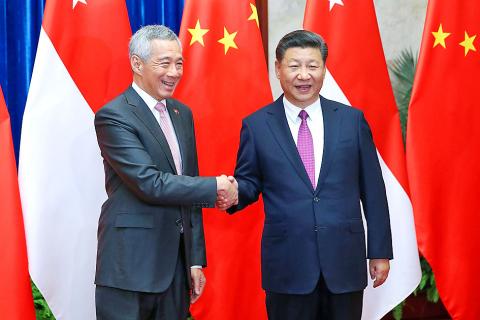 Singapore`s Prime Minister Lee Hsien Loong , Left, shakes hands with China`s President Xi Jinping before their meeting at the Great Hall of the People in Beijing on Wednesday.
Photo: AFP
In 1974, then-president Chiang Kai-shek (蔣介石) agreed to then-Singaporean prime minister Lee Kuan Yew's (李光耀) request for the Singaporean military to be trained by the Republic of China's armed forces in Taiwan due to the city-state's limited space.
Chiang's son, then-premier Chiang Ching-kuo (蔣經國), in 1975 signed an agreement with Lee and initiated the partnership, codenamed "Project Starlight" (星光計畫), in which Singapore sent troops to Taiwan to receive military training.
The project has continued to this day and has taken on the form of a joint military exercise after Taiwan helped the Singaporean military develop its defense capabilities.
Former deputy minister of national defense Lin Chong-pin (林中斌) yesterday said word of the rumored plan was passed on to him by a reporter in Hong Kong.
If true, the significance behind Singapore's decision to end its military exchanges with Taiwan following a meeting between Chinese President Xi Jinping (習近平) and Singaporean Prime Minister Lee Hsien Loong (李顯龍) would be "self-explanatory," Lin added.
Democratic Progressive Party Legislator Tsai Shih-ying (蔡適應) yesterday said there have been several signs that Singapore would back out of Project Starlight.
The most obvious reason is that China has been pressuring Singapore to end its military exchanges with Taiwan to limit the nation's international space, he said.
That Singaporean troops receiving training in Taiwan was a topic of discussion between Xi and Lee Hsien Loong was likely a hint that the speculation is true, Tsai said, adding that joint military drills by Taiwan and Singapore have been protested by Taiwanese.
The Singaporean government has invested A$2.2 billion (US$1.75 billion) to build a military base in Queensland after it signed the Comprehensive Strategic Partnership agreement with Australia and has set plans in motion to move its troops from Taiwan to Australia, where there would be more space to conduct military drills, he said.
Tsai said while he hopes that Singapore would maintain a level of military exchanges with Taiwan, he could understand why the Singaporean government might feel that it is "inconvenient" to continue training its armed forces in Taiwan, given the circumstances.
Comments will be moderated. Keep comments relevant to the article. Remarks containing abusive and obscene language, personal attacks of any kind or promotion will be removed and the user banned. Final decision will be at the discretion of the Taipei Times.