Defense ministry suing France over Mirage kickbacks
The Ministry of National Defense is suing the French government for alleged kickbacks paid to French officials for the purchase of Dassault Mirage 2000 fighters between 1992 and 1997, an official said.
The ministry has acquired the services of an elite French legal firm for one year for the suit, costing NT$177 million (US$5.86 million), a senior official who has knowledge of the matter said.
The France-based legal firm is to represent Taiwan until July 23 next year, but the ministry is to continue the case if the court of arbitration does not reach a verdict by July next year, said the official who requested anonymity.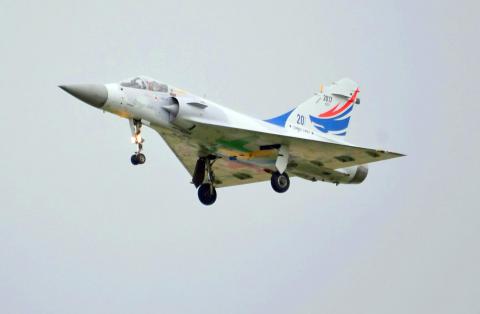 A Mirage 2000 fighter jet is pictured on June 2.
Photo: Yu Tai-lang, Taipei Times
The ministry believes the legal fees are justified, as the court ruled in a former case that France is to repay US$875 million for bribes paid to its officials for selling six Lafayette-class frigates, the official said.
The French-made frigates cost Taiwan NT$78 billion, less than half the NT$160 billion paid for 60 Mirage 2000 jets, the official said.
"Although the two cases are not comparable, if it is proven that there were kickbacks paid for the fighters, we will likely demand repayments that are greater than the compensation we are to receive for the Lafayette-class frigates," the official said.
Following the legal victory in the Lafayette case, the ministry in 2012 sued for compensation over bribes that were allegedly paid for Mirage 2000 fighters, the official said.
It took four years for the case to clear preliminary legal procedures, which is now to be heard at the court of arbitration, the official added.
The air force is to send a legal team of 12 people to France to be involved in the proceedings, the official said.
The French government was upset by the case brought by the Mirage 2000 scandal, which has affected its commitment to provide technical support for the fighters, another anonymous source said.
The dispute had a negative effect on the fighters' maintenance, spare parts supply and the life-extension program for their missiles, the source said.
However, the French government has continued hosting training for Taiwanese pilots, a program that began in November last year and is to continue until October next year, in addition to sending instructors to Taiwan for advanced tactical training, the source said.
Comments will be moderated. Keep comments relevant to the article. Remarks containing abusive and obscene language, personal attacks of any kind or promotion will be removed and the user banned. Final decision will be at the discretion of the Taipei Times.