Military welcomes possible US Navy ports of call
BIG AND SMALL: The Maritime Ports Bureau said four ports have military facilities that destroyers can use, but only Kaohsiung can accommodate large aircraft carriers
The Ministry of National Defense yesterday expressed optimism after the US Senate Committee on Armed Services passed a provision that would re-establish regular visits by US Navy vessels to Kaohsiung or "other suitable ports" and allow the US Pacific Command to "receive ports of call by Taiwan."
The committee on Thursday voted to allow the exchanges as part of next year's National Defense Authorization Act, which is to be sent to the full Senate for consideration.
"The move shows that the US values military exchanges with Taiwan. The ministry welcomes any form of partnership that would enhance Taiwan's national defense capabilities and bring stability to the region," the ministry said in a statement.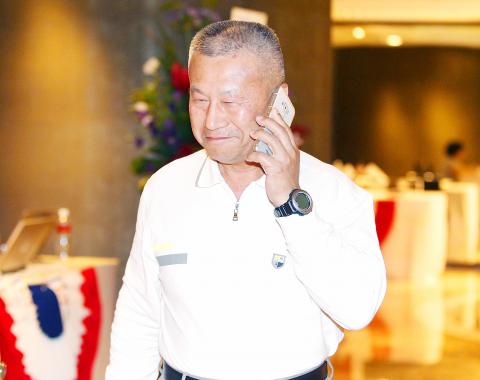 Deputy Chief of the General Staff Pu Tze-chun appears at an American Institute in Taiwan event celebrating US independence day in Taipei yesterday. Pu declined to confirm reports that US Navy vessels would be able to dock at Taiwanese ports.
Photo: CNA
Taiwan International Ports Corp (臺灣港務), which is in charge of operations at the nation's seaports, said that the ministry has its own wharves at some ports.
Should military vessels from other nations need to make stops in Taiwan, they would have to contact the ministry for permission to dock at its wharves, the firm said, adding that military ships would not dock at wharves used by commercial vessels.
The ministry could request the company's assistance if its wharves cannot accommodate larger warships, the firm added.
Keelung, Kaohsiung, Suao and Taichung ports have military facilities, the Maritime Ports Bureau said.
Bureau Deputy Director-General Lee Yun-wan (李雲萬), who was a student at National Taiwan Ocean University in Keelung when the US Navy's Seventh Fleet would make ports of call there, said that he recalled seeing a small aircraft carrier enter Keelung Port, although the vessel did not dock.
Only Kaohsiung Port can accommodate large aircraft carriers, which could enter through the second port entrance, Lee said.
He added that Keelung, Kaohsiung, Suao and Taichung ports can accommodate 9,000-tonne guided missile destroyers, such as the USS Fitzgerald, which earlier this month was involved in a collision with the Philippine-flagged cargo container ship ACX Crystal in Tokyo Bay.
Comments will be moderated. Keep comments relevant to the article. Remarks containing abusive and obscene language, personal attacks of any kind or promotion will be removed and the user banned. Final decision will be at the discretion of the Taipei Times.