Taiwan still wants to join TPP: premier
UNILATERAL: China's Panama move debunked the belief that the 'one China' principle allows room for different interpretations, Premier Lin Chuan told a Japanese newspaper
The nation still wishes to join the Trans-Pacific Partnership (TPP), even though the US — the former driving force behind the regional trade pact — has withdrawn from the agreement, Premier Lin Chuan (林全) said.
Lin made the remarks during an interview with Japan's Nikkei daily.
The full text of the interview was posted on the Cabinet's Web site yesterday.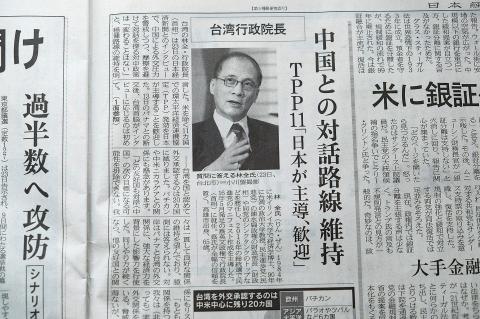 A copy of yesterday's Nihon Keizai Shimbun, which published an interview with Premier Lin Chuan, is pictured in Tokyo.
Photo: CNA
Japan has been pushing ahead with the agreement since US President Donald Trump pulled out of the pact in January following his inauguration.
The TPP was previously led by the US under the administration of former US president Barack Obama.
"We hope to reduce trade barriers," Lin said, adding that trade is the main driver of the nation's economic development, which necessitates liberalization.
Taiwan had previously expressed a desire to join the pact and is pleased to see Japan become the leader among the 11 remaining nations, Lin said.
"We would be pleased to have the opportunity to join multilateral trade blocs to further liberalize the market," he said.
China's suppression has made it difficult for Taiwan to sign bilateral or multilateral trade agreements with other nations, he said.
However, such obstacles need to be overcome to gain access to trade deals, he added.
Taiwan has a relatively strong economy and its participation would be beneficial to the TPP, he said, adding that the nation also hopes to develop closer trade ties with Japan, other TPP nations, the US and the EU, and to reduce tariffs in bilateral trade.
When asked about Panama's cutting of diplomatic ties with Taiwan in favor of China, Lin said Taiwan would not yield to Beijing's pressure.
Beijing claims its establishment of official ties with Panama is the realization of its "one China" principle, but that is its own opinion, Lin said.
The "one China" principle is aimed at making the Republic of China "disappear," which is something the majority of Taiwanese would not accept, he said, adding that Beijing's statement also debunked some people's belief that the "one China" principle allows room for "different interpretations" of what "China" means.
Additional reporting by Lee Hsin-fang
Comments will be moderated. Keep comments relevant to the article. Remarks containing abusive and obscene language, personal attacks of any kind or promotion will be removed and the user banned. Final decision will be at the discretion of the Taipei Times.